1845-c1846
- 59, Stock Street, Cheetham, Manchester, England.
[1]
Fred's birth entry in the Manchester, England, Non-Conformist Births and Baptisms, 1758-1912, gives the number as 59.
Most of the houses on Stocks Street appear to have been demolished in the 1950's. The area is now an industrial estate.
1851-c1854 - Stratford Road, Sparkbrook, Birmingham, England.[6]
According to the 1851 census, the Enocks were seven entries away from the Angel Inn Hotel. By tying this information in with the 1889 OS town plan of Birmingham, the Enocks would have lived next-door to Ladypool School. The house was demolished to make way for St. Agatha's Church around 1898.
1861-? - Balsall Heath Road, Balsall Heath, Birmingham, England.[7]
In the 1861 census, the enumerator lists all the dwellings on the northerly side of Balsall Heath Road between Mount Pleasant and Longbridge Road. The Enock entry is 28 entries from Longmore Road and 19 from Mount Pleasant. Using this information against the 1889 OS map of Warwickshire, the Enock's appear to be somewhere in the middle, possibly Denmark Place.
The area is now barely recognisable. Denmark Place was demolished sometime between 1938-1952 and was replaced by council flats in the 1970's.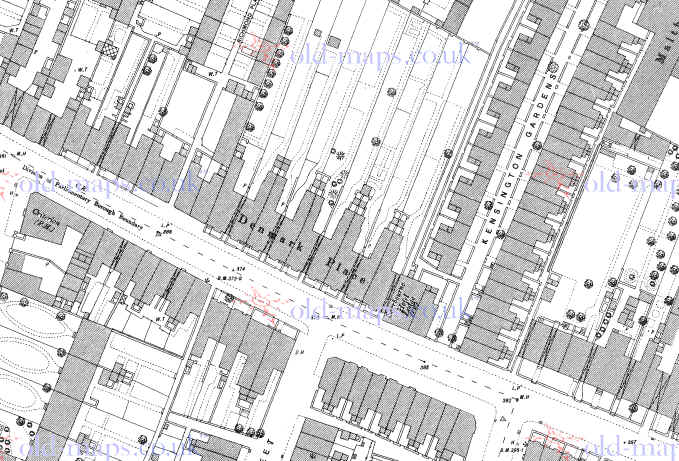 1889 OS map of Warwickshire.
1871-1872 - 48, Tollington Road, Islington, London, England (with uncle Edmund Wheeler).[8]
1872-? - 3, Andover Road, Islington, London, England (road demolished in the 1970's).[5]
1878-1882 - 30, Russell Road, Islington, London, England (now Berriman Road).[8]
1890-1894 - 11, Parolles Road, Upper Holloway, London, England.[9]
1895-1897 - 21, Manor Gardens, Islington, London, England (demolished 1920's?).[10]
1899-1915 - 13, Tufnell Park Road, Holloway, London, England.[11]
1916 - 54, St. Mary's Terrace, Hastings, East Sussex, England.[2]
Tuesday 14th August 1855 - Wednesday 1st February 1860 - Ackworth School, Pontefract Road, Ackworth, Pontefract, England.[12]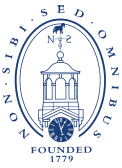 Admit number: 7639.
Agent: William Southall.
Relatives in attendance: Robinson Enock (brother), Emma Enock (sister), Edwin Enock (brother).[12]
'Unfortunately, the habit of chasing butterflies "out of bounds" did not commend itself to the authorities at Ackworth, and the young entomologist was frequently in trouble.' - Ackworth memorial notice.[12]
Admission: Graduated scale of payment. Minimum charge £12 per annum [eqv. £517 in 2005], but parents who could manage to pay more were asked to contribute £15 [eqv. £647 in 2005] or £21 [eqv. £906 in 2005], according to their means.[13]

Life at Ackworth.
Between the ages of ten and fifteen, Fred was away from family life for eleven-months of the year, only returning home during the one-month annual summer holiday.[13]
Fred, Robinson, Emma and Edwin, would have only seen one another at meeting for worship or other public occasions. To spend time together, the siblings would have congregated on a path running midway between the two wings known as "The Flags".[13]
Scholars studied during the day, and undertook some manual work out-of-hours.[13]
The curriculum between 1855-1860 consisted of:[13]
Religious study (a chapter from the bible was read before breakfast).
English language.
Reading.
Writing.
Spelling.
English Grammar (in upper classes).
English History.
Mathematics (mainly arithmetic, older boys studied land surveying, Trigonometry, Mensuration and a little elementary Algebra).
Geography (map instruction and the drilling of the rudiments of geography).
Latin (taught to twenty of the most advanced scholars).
French (two highest classes - ninth and tenth).
Art (introduced in 1856 - drawing was taught by a visiting Art Master).
Physical Training (1860).
Manual work included:[13]
Dining Room Waiter
Washers
Tailor's Waiter
Shoemaker's Waiter
Shed Sweepers.
Garden Sweepers
Shoe Cleaning.
Knife Cleaners.
Bath Cleaning.
Bread Carriers
Washing Mill Boy
Churners
Door Keepers
Sheet Carriers
Morning Waiter
Bed Rollers
Manglers.
Hair Teazers.
Stocking Menders
Garden Labouring.
Hay-making
Carpenter assisting.
Staff at Ackworth School during Frederick's schooling:[14]
Superintendent: Thomas Pumphrey.
Masters: John Newby (Master of Grammar and Latin), William Pollard, Henry Sparkes (Master of Drawing), John William Watson, William Tallack, Francis William Wood, George Frederick Linney, Thomas Frederick Ball, Wilson Hartley, Thomas Robson.
Master on Duty (outdoor inspection of boys during play-hours): Henry Wilson, Thomas Puplett.
Visiting Reading Master: Thomas King Greenbank (three-weeks in 1856, one-week 1859).
Visiting Drawing Master: John C. Swallow, John White, Charles Ryan.
Housekeeper: Sarah Maddocks.
Boys' Matron: Sophia Gregory.
Nurse: Mary Williamson.
Principal Tailor: George Frederick Linney.
Principal Shoemaker: Isaac Levitt.
Baker: John Walker.
Husbandman (Farmer): William Cammage.
Principal Gardener: James Jones, Samuel Peaker.
Relatives who also attended Ackworth:[15]
Robert Enock (father)
Elizabeth Enock (nee Doeg) (mother).
Robert Enock (grand-father).
Arthur Peters Enock (grand-uncle).
Joseph Enock (grand-uncle).
Mary Robinson Enock (auntie).
Arthur Gregory Enock (uncle).
Caroline Wheeler (nee Enock) (auntie).
Sophia Kenway (nee Enock) (auntie).
James Lewis Enock (1st cousin, 1x removed).
Sarah Enock (aunt).
William Doeg (uncle) - Scholar: 1814-1816, Apprentice: 1816-1823, Master: 1823-1827.
David Doeg (uncle).
Robert Doeg (uncle) - Scholar: 1818-1821, Apprentice: 1821-1828, Master: 1828-1841.
Henry Doeg (uncle).
Priscilla Doeg (auntie).
Jane Doeg (auntie).
Thomas Gilkes (2nd cousin, 1x removed).
William Gilkes (2nd cousin, 1x removed).
Sarah Gilkes (2nd cousin, 1x removed).
Martha Gilkes (2nd cousin, 1x removed).
Richard Gilkes (2nd cousin, 1x removed).
Additional information on Ackworth School can be found here
1861 census - Machinists Pupil?
1871 census - Naturalist.
1881 census - Professor of Natural History (microscopic).
1891 census - Scientific Lecturer Natural History.
1901 census - Lecturer in Science School.
1911 census - Science Lecturer.

'On leaving school Fred Enock went to Birmingham, where he became an engineer's draughtsman, and for a time was occupied making the drawings for the present Blackfriars Bridge. But this employment was not congenial to him, and moreover, he found it rather difficult to pursue his nature studies and be in the office at the right hour in the morning, especially after a night in the woods moth-hunting.
After a time he was invited by his uncle, Edmund Wheeler, F.R.A.S., to come and help him with microscopic work in London. Edmund Wheeler was at the time the best known popular lecturer at schools and institutes, and his brilliant experimental lectures greatly delighted a bygone generation. The new work exactly suited Fred Enock's tastes, and he began at once the preparation of all kinds of insects for the microscope (In 1878, Fred went in to business on his own). This he did in a way never seen before. By his method the natural form and internal structure of the insect were successfully retained. For many years Fred Enock continued this work, but at a time came when the use of the camera began to lessen the demand.
Then it was that he took to the lecture platform, still utilising his wonderful talent for the production of unique microscopic slides. He lectured at most of the leading institutes and societies in the United Kingdom, and at many large schools. It was an invariable rule with him never to show a slide that had not been photographed or drawn and coloured by himself.
His lectures, so familiar to many recent Old Scholars, were made up of scientific truths gathered during years of labour and observation. He has many times lectured before the Royal Society, the Royal Horticultural Society and other leading scientific associations' - Ackworth memorial notice.[12]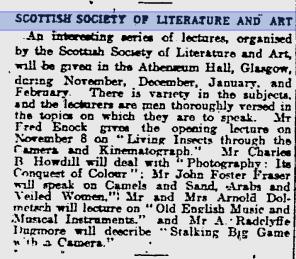 An article taken from The Glasgow Herald dated the 20th October 1911.[16]
Further Reading:
Fairy Flies and their Hosts by Fred Enock
Flashlights on Nature by Grant Allen with illustrations from Fred Enock
Mr Fred Enock's method of mounting heads of insects without pressure by Rev. J.S. Pratt
Naturalist.
'He early developed a love for the study of insect life, and as this was fostered by a devoted mother - herself an ardent naturalist - his progress in that direction was very rapid.' - Ackworth memorial notice.[12]
Fred is often noted as the greatest mounter of all time. His slides show insects in spectacular fashion. He is famous for mounting without pressure resulting in the insects having their three dimensional structure preserved. Fred's methods of preparing his specimens are unknown as he kept them secret and all of his papers were destroyed at the time of his death (although there is a paper written by Rev.J.S. Pratt which tries to demonstrate Fred's methods). Few people, if any, people at that or any other time, are capable of such perfection in the mounting of insects. For that reason, his mounts are highly sought after, collectable and valuable.[17]
'It is certainly very difficult for most Zoologists to acquire skill in the ways of preparing Mymarids and Trichogrammatids. However, there has been one man who knew the art perfectly, namely Fred Enock, of London, who, being unfortunately a poor man, had to sell his slides in order to make a living and therefore did not disclose his method of mounting, taking the secret with him to the grave.' - J. P. Kryger.[18]
'Of course, he has done other work, he is a mounter of insects for collectors, and he tells me that according to accurate records he has kept he has mounted no fewer than 200,000 specimens.' - E.L. Scott - 1912.[19]
Fairy Flies.
'British Mymarida or Fiary Flies whose marvellous instinct & structure have given me so much delight & kept my faith in the Almighty Creator of all things Who has permitted me to see into the secrets of their lives & to show them to others. May he yet spare me for many years to enjoy the study of nature & may I be led from Nature to Natures God.'[2]
Fred is especially famous for his study of, and mounting of Fairy Flies.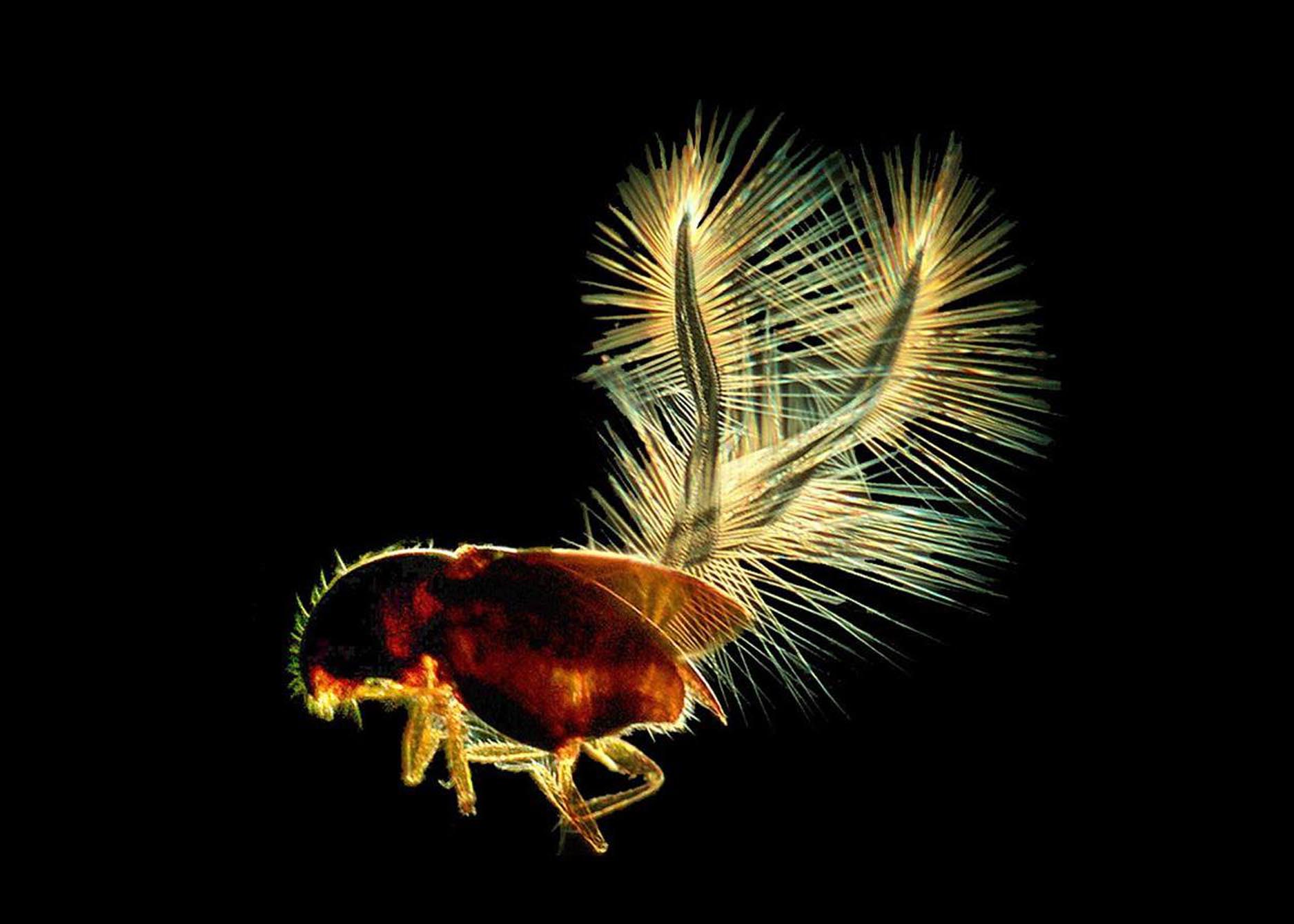 A picture of a fairy beetle prepared by Fred.[17]
'Enock tell us that he first became interested in Fairy files in 1876 and from then onwards he gave up much of his time to studying the family, at first alone and from 1907 in conjunction with Charles Owen Waterhouse (1843-1917) of the British Museum (Natural History). Unfortunately Enock published only a few papers on the family and these included several of a popular nature. Two fragments of his projected Monograph with C. O. Waterhouse exist in the Manchester Museum together with his photographs, negatives and a set of microscope slides. Unfortunately no manuscript relating to the genus Polynema appears to have been prepared. Enock appears to have mounted all his material on microscope slides which were distributed by him to the four corners of the earth. Many of these are labelled with manuscript names as 'new species' and beat the word 'type'.
'With regard to the rearing of specimens Enock devised a simple method of obtaining material. This was adopted by him in 1911 and continued for several seasons, to judge him from his rough notebook now in the Manchester Museum. Grass clumps, often mixed with Juncus, were placed in breeding jars and the emerging Mymarids collected from time to time. The following condensed summary of Enock's notes may perhaps prove useful as indicating the scope of his method' - W. D. Hincks.[20]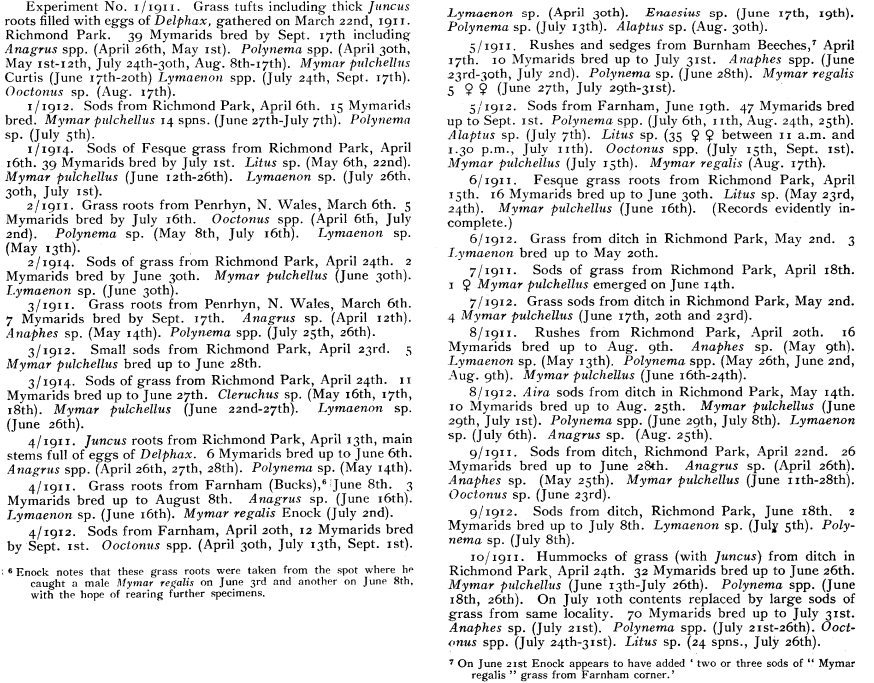 Condensed summary of Enock's notes taken from 'Notes on some British Mymaridae' - 19th October, 1950. (Click to enlarge).[20]
Hunts 33 years for rare fly - E.L. Scott - American Journals from 1912.[19]
In this interview with E.L. Scott, Fred reminisces of the moment he caught his first male Mymar regalis, his long association with the fairy fly and his mounting/lecture work.
For more than 33 years, Fred Enock, a London man of science, has been scouring square mile upon square mile of England with a cambric net no bigger than your hat, looking for an insect less than one-twentieth of an inch long. So scarce are some kinds of these insects that there are said to be only two in every 640 acres and the finding of them is so rare a feat that one must go back 60 years to read of a previous catch. Now Enock has landed one, and he is the happiest man in England.
Enock is a fellow of no fewer than four scientific societies and a most learned looking man, with a tall dome of a forehead. He talks like an annual report of the Linnean society. The insects have been popularly christened fairy flies, and, until Enock fell in love with the shape of one under a microscope 33 years ago, men of science had considered them of not enough importance to waste time over. And to this day Enock remains almost the sole authority upon their playful habits.
Surely much ado was never made about less. Here is a man with a more than ordinary brain who spends almost two score of precious years looking for a few insects that will never be of any possible use to humanity or probably to science, and the total result of his long search could be put in a peanut shell. Of course, he has done other work, he is a mounter of insects for collectors, and he tells me that according to accurate records he has kept he has mounted no fewer than 200,000 specimens. In addition, he is a lecturer, in popular style, on natural history subjects, and he travels about England explaining to the rising generation, the evolution of the spider, the wasp, the bee, the butterfly and his lifelong friend, the fair fly. But how many valuable hours have been stolen from more productive fields of effort to spend time with his net, his bottles and his microscope on the invisible trail of the elusive fairy fly only Enock knows. If it were possible to calculate the amount of money wasted by him in his strange quest, it would probably be found that his fairy flies are worth many times their weight in radium. It will be entertaining to let Enock tell of his queer search in his own words, but you must remember that when he speaks of fairy flies as the most beautiful insect in the world he is like a parent describing his favourite child, and prone to exaggeration.
"My introduction to the fairy fly," he said, "was at a meeting of the Royal Microscopical society of 1878. A species no larger than a fiftieth of an inch entangled in a spider's web was shown to us, and I immediately lost my heart to it. It had four wings exquisitely shaped and margined with hairs. I determined that I would search out the life history of these insects, and thus began my long quest for some of the rarer species."
"At that time practically nothing was known of them. They were so small that they had escaped the attention of scientists. The first mention of them was in 1797, and then nothing was heard of them for more than 80 years. I soon found out that they belonged to the same order as they honey bee and the wasp - sort of poor relations, so to speak. In size they vary from a twentieth to a ninetieth of an inch in length. Figures as small as they convey no impression to the ordinary mind. Perhaps it might be better if I say that a dozen of these beauties could walk abreast through an ordinary pinhole. They search out the eggs of certain other insects and in them lay their own, thus destroying the host eggs. Each species has a different kind of host egg, and in no circumstance will they lay their eggs in any other way."
"During the 30 odd years I have been searching for these flies, I have discovered eight new genera and at least 150 new species. For the last four years I had the assistance of Charles Owen Waterhouse, formerly a member of the staff of the Natural History Museum, at South Kensington, who, like myself, became fascinated by the marvelous beauty of these fairy flies when seen under the microscope, and decided to devote his time to searching them out."
One can picture these two men, both hovering around the middle 60's, armed with cambric nets, a collection of empty glass tubes and microscopes, both possessed of the enthusiasm that knows no discouragement, trampling over the fields of England day in and day out, content if once in a blue moon either caught a new species.
Enock gave to the writer a description of probably the greatest moment in his life, when he discovered in the bottom of his net the male fair fly of a certain species, for which he had been searching patiently for the whole 30 odd years of his acquaintance with the insects. Females he had landed before, but the male was so rare that 60 years had elapsed since anyone put one between glasses and submitted it to the prying eye of the microscope.
"Waterhouse and I had been sweeping Burnham Beeches with our nets all one Saturday afternoon, " he said. "I intended going home for dinner, and as Waterhouse was staying out we parted, he going to the west and I staying in the field. I determined to have a few more sweeps before leaving, and at their conclusion I examined the bottom of my net with my microscope. I became dizzy with excitement when I saw there the very insect I had given more than 30 years of my life to find - the male of a rare species of which there are only two in every square mile. In honor of King George I immediately christened it Mymar regalis. In my excitement however, I almost lost the treasure. He hopped away, and although I immediately closed the net I thought I had lost him. During the next few minutes I was almost dead with anxiety, but an examination soon convinced me that I still had him captive and in a few seconds he was safely bottled.
"Wonderful as this catch was, it was rendered more wonderful still by the fact that in the same net I discovered a species of a minute insect of which there was no record of any previous catch for 90 years. I soon had it too, safely in a bottle and started as fast as my old legs would carry me after Waterhouse to tell him the great news. I ran and walked four miles that day before I finally found him. 'What do you think this is?' I asked him, trying to remain as calm as possible and show him the Mymar regalis. As soon as he realised, he offered his congratulations. Then I showed him my other find and there were more congratulations. That was a day to remember all the rest of one's life."
"But these fairy flies are not all as scarce as the Mymar regalis. Far from it. Despite the fact that they have been overlooked by the great body of naturalists, they are to be found in every garden and on every window - in houses, in conservatories and in trains. When I was younger and my sight was better I used to catch them with my hands as they flew, like tiny specks of gold across a sunbeam. One of the most plentiful species, that known popularly as the black fairy fly, I have captured in hundreds in the early spring, close up to the horizontal sash bar of an east window. At other times they are to be found in large numbers running up and down grass stems in search of their host eggs."
"Even after spending the better part of my life in the study of these insects I am compelled to acknowledge that I know very little of them. Of the 21 genera now comprised in the British fairy flies, I have been able to work out the life history of but two. Of course, I know considerable about others of the remaining nineteen, and year by year I am adding links that I hope will eventually complete the life cycles."
"The common black fairy fly lays its eggs in those of a small water beetle, found on stems of plants below the water line. In order, therefore, to get to its host eggs this fairy fly must dive beneath the water. The Alaptus, another common species, searches for the eggs of a fly resembling the common green fly, the pest of the gardener. The tiny Camptopera papavis, one of the smallest of fairy flies, sometimes appears in hundreds on windows, and at my home in Woking I have captured no fewer than 600, all female, all at one time."
"One of the most extraordinary little insects is that known as Caraphractus cinctus. It is aquatic in its habits, using its delicately fringed wings for 'flying' through the water. Its legs are kept perfectly still during the operation and the fly progresses with a jerky, zigzag motion."
"These insects appear in early spring - some of them in March - and I have captured them as late as December. They are difficult to breed because of the difficulty of discovering their host eggs."
"Of all insects, that popularly called battledore wing fly is without doubt the most wonderfully formed and most beautiful I have ever looked upon. It is less than one-twentieth of an inch in length, with its two front wings shaped like long-handled battledores, surrounded by a fringe of long hairs. The hind wings, so tiny that even under a powerful microscope the ordinary observer does not see them, are armed with three minute hooks on the upper edge, which fix into grooves on the upper wings and so form a strengthening bracket. My first capture of the battledore wing fly was made 33 years ago and it was only last year, after constant efforts, that I was able to breed it."
Speaking generally, Enock had high praise for the work of the bureau of entomology of the United States department of agriculture. He constantly corresponds with Dr. Leland O. Howard, its famous chief, for whom he has great admiration.
"If we only had the brains in this country that you have in the United States," remarked Enock sorrowfully, "we might be able to give something worth while to science. We know absolutely nothing about the life history of the majority of crop pests, and there is no organisation such as your bureau of entomology to advise the farmers of Great Britain. The trouble is there is no money available for field work, and when a government grant is made the money is spent in some ineffective way that is of absolutely no practical use to the farmer. Some day I suppose we shall wake up."

Fred's interview from 1912 (click to enlarge).
Societies.
Fred was a Fellow of the Linnean, the Entomological, the Royal Microscopical, Birmingham Natural History Society (joined 1865) and many other societies.[12]
Nomenclature.
Fred named a number of species:[21]
Cleruchus Enock
Dicopus Enock
Enaesius Enock
Erythmelus Enock
Neurotes Enock
Oophilus Enock
Parallelaptera Enock
Stephanodes Enock
Stethynium Enock
Equipment.[2]
"N & G" reflex camera (cost £42).

Sanger Shepherd photo-micro camera for colour photography (with Swifts short focus lens) (cost £15).

Lancasters Instantograph with lens (cost £4).

Crouch's Binocular microscope (cost £35).

Baker's Continental model with Abbe condenser (cost £12).

Small monocular with 2-inch lenses (cost £10).

Biunial lantern with mixed jets - two 8-inch, two 10-inch & two-13-inch lenses, four-cylinders, four-gauges, five-regulators, in case & ditto for apparatus (the whole lot cost £60).
1. Manchester, England, Non-Conformist Births and Baptisms, 1758-1912 - Society of Friends Hardshaw East Monthly Meeting - page 69.
2. England & Wales, National Probate Calendar (Index of Wills and Administrations), 1858-1966. Name: Frederick Enock - Probate Date: 3 Aug 1916 - Registry: London, England - Death Date: 26 May 1916 - Death Place: Hastings, Sussex, England.
3. Taken from the 1911 English census, edited by Adam Enock.
4. Siblings found via census returns.
5. England & Wales, FreeBMD Marriage Index, 1837-1915 - Name: Frederick Enock - Registration Year: 1872 - Registration Quarter: Jan-Feb-Mar - Registration district: Islington - Inferred County: London - Volume: 1b - Page: 471.
And
London, England, Non-conformist Registers, 1694-1921 - Name: Frederick Enock - Birth Year: abt 1846 - Marriage Age: 26 - Marriage Date: 21 Mar abt 1872 - Marriage Place: Islington - Church: Hornsey Road Methodist Chapel.
6. 1851 English census.
7. 1861 English census.
8. 1871 English census
9. 1881 English census & London, England, Electoral Registers, 1832-1965.
10. London, England, Electoral Registers, 1832-1965.
11. 1901 & 1911 English census & London, England, Electoral Registers, 1832-1965.
12. Information taken from documents provided by Celia Wolfe, Archivist at Ackworth School. Logo taken from Ackworth School's website.
13. Information taken from 'Ackworth School' by Elfrida Vipoint.
14. Taken from 'Superintendents, Teachers, and Principal Officers of Ackworth School'. Can be read online here: https://archive.org/details/superintendents02hodggoog
15. List of Ackworth Scholars 1879-1930.
16. Taken from www.britishnewspaperarchive.co.uk.
17. Taken from http://www.microscope-antiques.com/fairybeetle.html
18. Taken from: The European Mymaridae comprising the genera known up to c. 1930, which can be read here: http://www.nhm.ac.uk/resources/research-curation/projects/chalcidoids/pdf_Y/Kryger950.pdf
19. Hunts 33 years for rare fly - by E.L. Scott. Found in a magazine available on www.findmypast.com
20. - Notes on some British Mymaridae - 19th October, 1950. Can be read here: http://www.nhm.ac.uk/resources/research-curation/projects/chalcidoids/pdf_Y/Hincks950.pdf
21. Found via http://www.nbair.res.in/
22. Image taken from U.S. and UK, Quaker Published Memorials, 1818-1919.
23. Information and excerpts taken from Charles' diaries (held by the Imperial War Museum).
25. Image taken from: http://erps.dmu.ac.uk/catalogue_single.php?h=p2&pnum=E11S015A&serial=29994&etid=125606&page=c
Page updated 4th April, 2017.