Full name: Edwin Enock
Known as: Ted

Date of birth: Tuesday 4th December 1849.
Birthplace: Birmingham, Warwickshire, England.
Date of death: Friday 4th April 1924 (died of an incurable illness).
Place of death: Edmonton Hospital, London, England (aged 74 years).

Will:

Effects: £376. 4s. 0d. (worth £20,750 in 2017).
Executors: Emily Enock (wife) and Henry Ernest Dell (nephew).
'I give devise and bequeath unto my said wife the whole of my property of which I may die possessed for her own absolute use and benefit. In the event of my said wife dying in my lifetime then I give the whole of my property to the said Henry Ernest Dell upon trust to apply and dispose of the same manner he in his absolute discretion may deem best for the benefit of Irene Margaret Enock, Doris Annie Enock, and Emily Elizabeth Enock of 99 Station Road, Chingford, Essex, the three daughters of my deceased son, Robert Enock'.

Signature:

1851-c1854 - Stratford Road, Sparkbrook, Birmingham, England.
According to the 1851 census, the Enock's were seven entries away from the Angel Inn Hotel. By tying this information in with the 1889 OS town plan of Birmingham, the Enock's would have lived next-door to Ladypool School. The house was demolished to make way for St. Agatha's Church around 1898.
1861-c1881? - Balsall Heath Road, Balsall Heath, Birmingham, England.
In the 1861 census, the enumerator lists all the dwellings on the northerly side of Balsall Heath Road between Mount Pleasant and Longbridge Road. The Enock entry is 28 entries from Longmore Road and 19 from Mount Pleasant. Using this information against the 1889 OS map of Warwickshire, the Enock's appear to be somewhere in the middle, possibly Denmark Place.
The area is now barely recognisable. Denmark Place was demolished sometime between 1938-1952 and was replaced by council flats in the 1970's.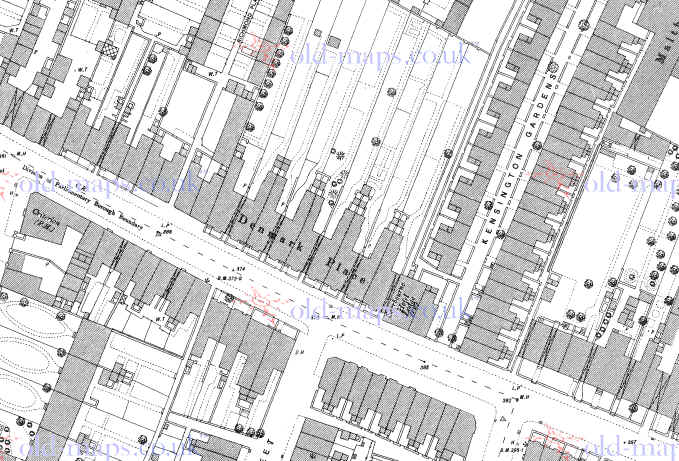 1889 OS map of Warwickshire.
1881-? - 2, Craddock Street, Kentish Town, London, England (demolished in the 1930's).
1885 - 55, Tabley Road, Islington, London, England.
1888-1889 - 234, Park Road, Crouch End, London, England.
1891 - 11, Northwood Road, Highgate, London, England.
1893-1894 - 23, Gladsmuir Road, Highgate, London, England.
1898 - 1, Gladsmuir Road, Highgate, London, England.
1901-1903 - 6, Hazeldean Road, Stonebridge, Willesden, London, England.
1908 - 16, The Broadway, Winchmore Hill, London, England.
1911-1924 - 91, Woodberry Avenue, Winchmore Hill, London, England.
Friday 26th August 1859 - Saturday 1st November 1862 - Ackworth School, Pontefract Road, Ackworth, Pontefract, England.
View Larger Map
Admit number: 7938.
Agent: William Southall.
Relatives in attendance: Robinson Enock (brother), Frederick Enock (brother), Emma Enock (sister).
Admission: Graduated scale of payment. Minimum charge £12 per annum [eqv. £517 in 2005], but parents who could manage to pay more were asked to contribute £15 [eqv. £647 in 2005] or £21 [eqv. £906 in 2005], according to their means.

Life at Ackworth.
Between the ages of ten and thireen, Edwin was away from family life for eleven-months of the year, only returning home during the one-month annual summer holiday.
Edwin, Robinson, Fred and Emma, would have only seen one another at meeting for worship or other public occasions. To spend time together, the siblings would have congregated on a path running midway between the two wings known as "The Flags".
Scholars studied during the day, and undertook some manual work out-of-hours.
The curriculum between 1859-1862 consisted of:
Religious study (a chapter from the bible was read before breakfast).
English language.
Reading.
Writing.
Spelling.
English Grammar (in upper classes).
English History.
Mathematics (mainly arithmetic, older boys studied land surveying, Trigonometry, Mensuration and a little elementary Algebra).
Geography (map instruction and the drilling of the rudiments of geography).
Latin (taught to twenty of the most advanced scholars).
French (two highest classes - ninth and tenth).
Art (introduced in 1856 - drawing was taught by a visiting Art Master).
Physical Training (1860).
Manual work included:
Dining Room Waiter
Washers
Tailor's Waiter
Shoemaker's Waiter
Shed Sweepers.
Garden Sweepers
Shoe Cleaning.
Knife Cleaners.
Bath Cleaning.
Bread Carriers
Washing Mill Boy
Churners
Door Keepers
Sheet Carriers
Morning Waiter
Bed Rollers
Manglers.
Hair Teazers.
Stocking Menders
Garden Labouring.
Hay-making
Carpenter assisting.
Staff at Ackworth School during Edwin's schooling:
Superintendent: Thomas Pumphrey.
Masters: John Newby (Master of Grammar and Latin), Henry Sparkes (Master of Drawing), John William Watson, William Pollard, George Frederick Linney, Wilson Hartley, Thomas Robson, William Thistlethwaite, William Kitching, Thomas Rhodes.
Master on Duty (outdoor inspection of boys during play-hours): Thomas Puplett.
Visiting Reading Master: Thomas King Greenbank (one-week 1859, and 1862).
Visiting Drawing Master: Charles Ryan.
Housekeeper: Sarah Maddocks.
Boys' Matron: Sophia Gregory.
Nurse: Mary Williamson.
Principal Tailor: George Frederick Linney.
Principal Shoemaker: Isaac Levitt, James Wilson.
Baker: John Walker.
Husbandman (Farmer): William Cammage.
Principal Gardener: James Jones, Samuel Peaker.
Relatives who also attended Ackworth:
Robert Enock (father)
Elizabeth Enock (nee Doeg) (mother).
Robert Enock (grand-father).
Arthur Peters Enock (grand-uncle).
Joseph Enock (grand-uncle).
Mary Robinson Enock (auntie).
Arthur Gregory Enock (uncle).
Caroline Wheeler (nee Enock) (auntie).
Sophia Kenway (nee Enock) (auntie).
James Lewis Enock (1st cousin, 1x removed).
Sarah Enock (aunt).
William Doeg (uncle) - Scholar: 1814-1816, Apprentice: 1816-1823, Master: 1823-1827.
David Doeg (uncle).
Robert Doeg (uncle) - Scholar: 1818-1821, Apprentice: 1821-1828, Master: 1828-1841.
Henry Doeg (uncle).
Priscilla Doeg (auntie).
Jane Doeg (auntie).
Thomas Gilkes (2nd cousin, 1x removed).
William Gilkes (2nd cousin, 1x removed).
Sarah Gilkes (2nd cousin, 1x removed).
Martha Gilkes (2nd cousin, 1x removed).
Richard Gilkes (2nd cousin, 1x removed).
Additional information on Ackworth School can be found here