Emma Enock (1847-1868).
Date of birth: Saturday 13th February 1847.
Birthplace: Birmingham, Warwickshire, England.
Date of death: 1868.
Place of death: King's Norton, Birmingham, England (aged 21 years).

Father: Robert Enock (1811-1855).
Mother: Elizabeth Enock (nee Doeg) (1810-1867). Very interesting site on the Doeg family here.
Siblings: Charles Robert Enock (1837-1900), Arthur Henry Enock (1839-1917), Amy Jane Dell (nee Enock) (1841-1885), Robinson Enock (1843-1909), Frederick Enock (1845-1916), Edwin Enock (1849-1924), Sophia Elizabeth Derrington (nee Enock) (1853-1933).
Residences.
1851-c1854 - Stratford Road, Sparkbrook, Birmingham, England.
According to the 1851 census, the Enock's were seven entries away from the Angel Inn Hotel. By tying this information in with the 1889 OS town plan of Birmingham, the Enock's would have lived next-door to Ladypool School. The house was demolished to make way for St. Agatha's Church around 1898.
View Larger Map
1861-c1868 - Balsall Heath Road, Balsall Heath, Birmingham, England.
In the 1861 census, the enumerator lists all the dwellings on the northerly side of Balsall Heath Road between Mount Pleasant and Longbridge Road. The Enock entry is 28 entries from Longmore Road and 19 from Mount Pleasant. Using this information against the 1889 OS map of Warwickshire, the Enock's appear to be somewhere in the middle, possibly Denmark Place.
The area is now barely recognisable. Denmark Place was demolished sometime between 1938-1952 and was replaced by council flats in the 1970's.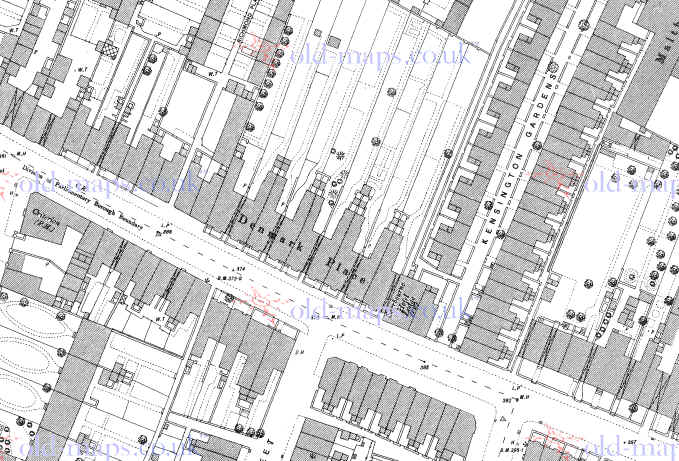 1889 OS map of Warwickshire.
View Larger Map
Education.
Wednesday, 13th February, 1856 - Monday, 5th March, 1860 - Ackworth School, Pontefract Road, Ackworth, Pontefract, England.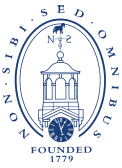 View Larger Map
Admit number: 7674.
Agent: William Southall.
Relatives in attendance: Robinson Enock (brother), Frederick Enock (brother), Edwin Enock (brother).
Admission: Graduated scale of payment. Minimum charge £12 per annum [eqv. £517 in 2005], but parents who could manage to pay more were asked to contribute £15 [eqv. £647 in 2005] or £21 [eqv. £906 in 2005], according to their means.
Life at Ackworth.
Between the ages of ten and fifteen, Emma was away from family life for eleven-months of the year, only returning home during the one-month annual summer holiday.
Emma, Robinson, Fred and Edwin, would have only seen one another at meeting for worship or other public occasions. To spend time together, the siblings would have congregated on a path running midway between the two wings known as "The Flags".
Scholars studied during the day, and undertook some manual work out-of-hours.
The curriculum between 1856-1860 consisted of:
Religious study (a chapter from the bible was read before breakfast).
English language.
Reading.
Writing.
Spelling (one-hour a day).
English Grammar (in upper classes).
English History.
Arithmetic.
Housewifery.
Needlework (sewing and knitting).
Geography (map instruction and the drilling of the rudiments of geography).
Latin (taught to twenty of the most advanced scholars).
French (two highest classes - ninth and tenth).
Art (drawing was taught by a visiting Art Master).
Manual work included:
Superintendent's Waiter - one girl for a week in play-hours and about two hours daily in school hours.
Parlour Waiters - two girls to wait in the housekeeper's room and assist the housekeeper for a fortnight at a time. One of them all her time, the other all her play-time and for two hours daily in school-time.
Dining Room Waiters - four girls in play-time for a week.
Shirt Menders - six girls three days (three of them four days to assist in the washing) employed both in and out of school, and two girls who assist them only in play-hours. Change weekly.
Mantua Maker's Assistant - one girl all her time for a week.
Constant Menders - two girls five days for a week.
Menders - six girls all their school time and nearly all their play-time, from Fourth Day morning to Seventh Day noon.
Room Sweeters - six girls (four of whom are out of school each Second Day morning till 11 o'clock.) Employed in play-hours daily about an hour.
Pie Makers - two girls to assist two mornings in each week in schooltime.
Two girls to assist in washing the young children and in cleaning the Wing, a quarter of an hour every morning and the whole of two evenings weekly. Play-hours.
Laundress' Assistants - four girls on Fourth Day afternoon. Playhours.
Paring Potatoes - all the girls who are not in other offices, six mornings in the week, half an hour before the morning school.
Occasional Employments - the girls provide the coals for the school. room fires, which they make and mend. They keep the school-rooms in order, and some of the older ones occasionally assist the Wing-maid, chamber-maids, &c. They are much employed in topping and tailing gooseberries, shelling peas and beans, cutting and paring apples, &c., during the season. They sweep the flags of their play-ground once a week in fine weather, and have numerous other incidental employments of a domestic nature, but which it would be difficult to particularize.
Staff at Ackworth School during Emma's schooling:
Superintendent: Thomas Pumphrey.
Principal Mistress: Mary Ann Speciall.
Mistresses: Maria King, Ann Wood, Sarah Ann Hodgson, Phebe Jane Bentley, Lucy Knight, Maria Woodhead, Anna Clark, Mary Caroline Pumphrey, Mary Elizabeth Robinson, Margaret Sarah Fowler, Anna Jesper.
Mistress on Duty: Charlotte Mabel Tuke.
Housekeeper: Sarah Maddocks.
Mantua-Maker: Rebecca Churchus, S. Thorp, Ann Hodgson, Eleanor Rennison.
Nurse: Mary Williamson.
Principal Tailor: George Frederick Linney.
Principal Shoemaker: Isaac Levitt, James Wilson.
Baker: John Walker.
Relatives who also attended Ackworth:
Robert Enock (father)
Elizabeth Enock (nee Doeg) (mother).
Robert Enock (grand-father).
Arthur Peters Enock (grand-uncle).
Joseph Enock (grand-uncle).
Mary Robinson Enock (auntie).
Arthur Gregory Enock (uncle).
Caroline Wheeler (nee Enock) (auntie).
Sophia Kenway (nee Enock) (auntie).
James Lewis Enock (1st cousin, 1x removed).
Sarah Enock (aunt).
William Doeg (uncle) - Scholar: 1814-1816, Apprentice: 1816-1823, Master: 1823-1827.
David Doeg (uncle).
Robert Doeg (uncle) - Scholar: 1818-1821, Apprentice: 1821-1828, Master: 1828-1841.
Henry Doeg (uncle).
Priscilla Doeg (auntie).
Jane Doeg (auntie).
Thomas Gilkes (2nd cousin, 1x removed).
William Gilkes (2nd cousin, 1x removed).
Sarah Gilkes (2nd cousin, 1x removed).
Martha Gilkes (2nd cousin, 1x removed).
Richard Gilkes (2nd cousin, 1x removed).
Additional information on Ackworth School can be found here

Do you have any more information on Emma? Please contact me at adam.c.enock@gmail.com.
Updated 9th September, 2015.