John "Jack" Kemp Enock (1878-1957).
Date of birth: Saturday, 6th July, 1878.
Birthplace: Edgbaston, Birmingham, England.
Date of death: Tuesday, 25th June, 1957.
Place of death: Central Middlesex Hospital, Park Roral, Middlesex, England (aged 78 years).
Will
Gross value: £4807. 14s. 10d. (around 104k as of 2016).
Nett value: £4807. 14s. 10d. (around 104k as of 2016).
Estate duty and interest: £91. 6s. 6d.
Executors: Robert Doeg Enock (cousin), Olive Marie Enock.
'I give and bequeath to my wife Olive Marie Enock absolutely the whole of my real and personal estate of whatsoever kind and description.'

Signature:
Father: Arthur Henry Enock (1839-1917).
Mother: Lavinia Georgina Enock (nee Hollis) (1841-1899).
Siblings: Donald Enock (1867-1927?), Charles Reginald Enock (1868-1970), Arthur Guy Enock (1870-1956), Eric Cuthbert Enock (1872-1952), Esther Ethelind Enock (1874-1947), Dorothea Amy Enock (1877-1959), John Kemp Enock (1878-1957), Christine Lavinia Enock (1881-1957).

Wife: Olive Marie Lever (1883-1970).
Date of marriage: Tuesday, 4th August, 1908.
Place of marriage: Witham Parish Church, Witham, Essex, England.

Children: John Arthur Derek Enock (1914-1998), Olive Joan May Enock (1918-).
Residences.
1878-1888 - 1 Park Place off the Alcester Road in Moseley, Birmingham.
1888 - 26 Exchange Buildings in Stephenson Place, Birmingham and Hill Crest in Lickey just outside Rubery, Birmingham.
1891-? - Coombeside, (now Pinewoods), Kingswear, Brixham, Devon, England (how did I locate this house? read here).
1901 - 14, West Ella Road, Willesden, London, England (can't locate house).
1920-1923 - 57, Moore Pool Avenue, Harbourne, Birmingham, England.
View Larger Map
1923 - Saltisford, Warwick, England.
1929 - 9, Crowland Road, Tottenham, London, England.
View Larger Map
1946-1957 - 39, Priory Gardens, Sudbury, London, England.
Education.
Private tuition at home; private school for boys at Paignton, Devon, at Chester, and at Dartmouth, Devon.
January 1891 - December 1892 - Paignton College.
1894-1898 - South Kensington Branch, Paignton College, Paignton, Devon, England.
Attended engineering and electrical classes (evening).
October 1898 - June 1899 - private study in electrical work.
Occupation.
September 1893 - October 1898 - 'Enock Bros', Coomb Works, Dartmouth, England.
Apprenticeship in all branches of marine engine works. Enock Bros was established by brothers Donald and Eric.
January-March 1899 - Chitty Dynamo and Motor Co, Willesden, London.
Magnet and armature building department.
April-June 1899 - Messrs. Joseph Baker & Sons, London, England.
Erecting shop of Messrs. Joseph Baker & Sons, fitting up confectionary machinery.
Joseph Baker was the father of John's cousin Amy's husband, Philip Barton Baker.
June 1899 - October 1900 - Messrs. Siemens Brothers, Woolwich, London.
General electrical work, erecting shop, erecting dynamos, balancing armatures. Three months of this time, in charge of work on the Metropolitan Electrical Railway, laying conductors, bonding rails, fitting up controllers and motors on electric trains.
1901-1902 - Messrs. Bigs and Shenta, Great College Street, Westminster, London, England.
Draughting, surveying. York Manufacturing Co., York, Pennsylvania, U.S.A.

Erecting 250-ton ice-plant at Boston, Massachusetts, U.S.A.

Erecting 25 refrigerating plants at Retreat, Pennsylvania, U.S.A.

Erecting 500-ton refrigerating machine at works.

Erecting 60-ton ice-making machine at Vicksburg, Mississippi, U.S.A.

Erecting 50-ton ice-plant complete at Sharpsburgh, Pennsylvania, U.S.A.
7th April 1904 - Arthur G. Enock and Co, Thane Works, Seven Sisters Road, Holloway, London.
Erecting refrigerating plants abroad.
'The bridegroom, who is a scientific engineer, was for two years assistant to Lord Rayleigh in his scientific research at Terling Place, and he is now engaged in the scientific laboratories at Teddington.' - Taken from an article in 'The Newsman' - Saturday, August 8th, 1908.
Inventor.
'In addition to the definitions and measurements that may be made in a comparatively flat picture at present, I believe there is something else almost within practical grasp. A stereoscopic binocular microscope would enable the object to be seen not as a comparatively flat picture only, but with the deep perspectives such as obtained through a stereoscopic or prismatic binocular glasses.
Lately I have been enabled to take part in gauging this development with my brother, John K. Enock, F.R.M.S., who has demonstrated an arrangement of lenses and lighting revealing such a picture, although not perfectly as yet. By this means one can perceive not only the objects which are in focus on the uppermost surface of the liquid under examination, but those which lie deeper or may move downwards. The difference may be likened to that found in looking into a pool and either seeing only the objects afloat on the surface, or looking deeper and perceiving those situated between the surface and the bottom.' - Guy Enock - 'This Milk Business'.

'My brother's experiences when assistant to the late Lord Rayleigh gave him exceptional opportunities to study such matters.' - Guy Enock - 'This Milk Business'.
John has 2 patents which are detailed here.
Family Relationships.
Diaries suggest that Charles and Jack. There are a number of entries of Jack visiting when he lived in Jack and his wife Olive moved to the Midlands in 1915, but made sure they visited every year.
'Jack and Olive are here, they motored over on Thursday. Today we motored to Winchester, Concha, Jack, dad and myself.'
'Just getting ready to start out with Jack in the motor on a two days trip to the New Forest.'
'We had Olive and her bright little girlie [Olive Joan Enock] here to stay for some time - she and Jack have a very unhappy time at home - Jack is self-centred: Olive is peculiar, but why cannot they try to live happily. She wanted a "rest-club" and some "human kindness". She wrote me asking if she could come.'
Information and excerpts taken from Charles' diaries (held by the Imperial War Museum).
Comments.
'My mom learned to drive a car, I think just before the First World War. I've got a photo somewhere of my mom, with dad, mom is in the driving seat, priceless car, upright thing, no roof, and she's extremely upright. Dad is in the back muttering instructions to her. But it was most unusual for a woman to be driving then. She was taller than dad; mom had a very good upright carriage.' - Joan Enock
'That's fascinating too, a weird mixture. He was a very talented person was my dad, but, interrupted very much by two world wars, and at one time he was sort of a commercial traveller and drove many miles. He had invented a kind of improved microscope, and he was very much on the microscope/telescope visual side of it all. He would drive many miles and show this to people and perhaps get an order with a bit of luck.' - Joan Enock on what Jack did for a living.
'They lived in a village, Terling in Essex, and Lord Rayleigh was the sort of typical inherited aristocrat, plenty of cash, and luckily, very kind hearted because there were some areas where the owner of an area was very difficult to have as a boss. When my dad went to visit mom, I don't think they were engaged, but obviously by then getting friendly, Lord Rayleigh realised that my dad was very much on the science side and got dad to go and see him and tell him quite a lot of things that he knew about microscopes and telescopes and all that sort of thing. I think Lord Rayleigh bought a telescope from dad.' - Joan Enock on Jack being Lord Rayleigh's assistant.
'I don't know where dad got it from, but he simply was on the science side, because his father was an artist.' - Joan Enock
Pictures.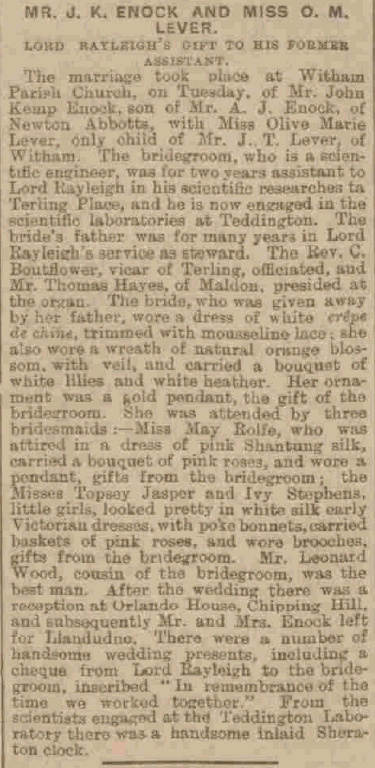 Taken from 'The Newsman' - Saturday, August 8th, 1908.
Do you have any more information on John? Please contact me at adam.c.enock@gmail.com.
Page updated 7th August, 2016.