1841-c1843 - Slade Road, Erdington, Birmingham, England.
The 1841 census shows that the Enocks were living very near to Salford House on the Slade Road. The 1889 Warwickshire OS map shows that the only houses near Salford House were by Gravelly Hill (the Spaghetti Junction end). There are a few old houses still standing, but it is impossible to say if one of these housed the Enocks in 1841.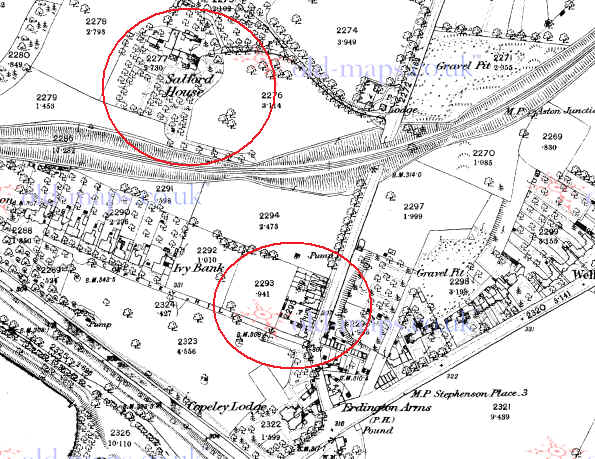 c1843-c1846 - 59, Stock Street, Cheetham, Manchester, England.
Robinson's birth certificate states that the family were living on Stock Street in the sub-district of Market Street. Fred's birth entry in the Manchester, England, Non-Conformist Births and Baptisms, 1758-1912, gives the number as 59.
Most of the houses on Stocks Street appear to have been demolished in the 1950's. The area is now an industrial estate.
1851-c1854 - Stratford Road, Sparkbrook, Birmingham, England.
According to the 1851 census, the Enock's were seven entries away from the Angel Inn Hotel. By tying this information in with the 1889 OS town plan of Birmingham, the Enock's would have lived next-door to Ladypool School. The house was demolished to make way for St. Agatha's Church around 1898.
1861-c1866 - Balsall Heath Road, Balsall Heath, Birmingham, England.
In the 1861 census, the enumerator lists all the dwellings on the northerly side of Balsall Heath Road between Mount Pleasant and Longbridge Road. The Enock entry is 28 entries from Longmore Road and 19 from Mount Pleasant. Using this information against the 1889 OS map of Warwickshire, the Enock's appear to be somewhere in the middle, possibly Denmark Place.
The area is now barely recognisable. Denmark Place was demolished sometime between 1938-1952 and was replaced by council flats in the 1970's.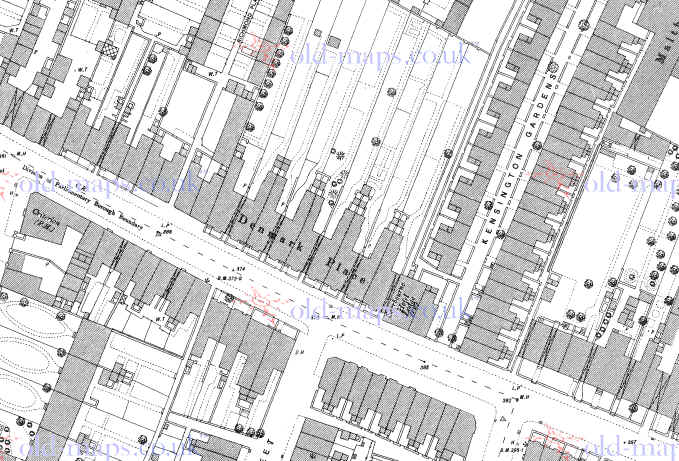 1889 OS map of Warwickshire.
1866-c1881 - 408 Holloway Road in Islington, London. The 1871 census lists the Dell family being 13 entries away from the Public House situated in between the Tollington and Seven Sisters Road. Site is now a Morrison's supermarket.
1881-1885 - 39 Fairmead Road, Holloway, Islington, London, England.