Donald Enock (1867-1932).
Date of birth: Saturday, 16th February, 1867.
Birthplace: Edgbaston, Birmingham, England.
Date of death: 1932.
Place of death: Rhodesia, South Africa (around 65 years).
Signature:


Father: Arthur Henry Enock (1839-1917).
Mother: Lavinia Enock (nee Hollis) (1841-1899).
Siblings: Charles Reginald Enock (1868-1970), Arthur Guy Enock (1870-1956), Eric Cuthbert Enock (1872-1952), Esther Ethelind Enock (1874-1947), Dorothea Amy Enock (1877-1959), John Kemp Enock (1878-1957), Christine Lavinia Enock (1881-1957).

Wife: Vera Cargill Enock (nee Clulee) (1882-1976).
Date of marriage: Thursday, 2nd November, 1905.
Place of marriage: St, Cyprian's Church, Durban, South Africa.


Children: Elizabeth Enock, Marjory Enock (1904-1984), Kenneth Cargill Enock (1908-?).
Residences.
1867-1872 - 13, Balsall Heath Road, Birmingham, England.
1872-c1880 - 2, Pershore Road in Moor Green, Birmingham.
1880-1888 - 1, Park Place off the Alcester Road in Moseley, Birmingham.
1888-1891 - 26, Exchange Buildings in Stephenson Place, Birmingham and Hill Crest in Lickey just outside Rubery, Birmingham.
1894 - Albert House, New Road (now Victoria Road), Dartmouth, Devon, England (house can't be located).
1897-1899 - Kingston Lodge, Townstal, Dartmouth, Devon, England (demolished before 1936) (how did I locate this house? read here).
c1900 - 20, Church Road, Willesden, London, England.
View Larger Map
Education.
1879-1884 - King Edwards School, New Street, Birmingham, England. Unfortunately, the school moved to Edgbaston in 1936 and the original buildings were demolished. A cinema now stands on the site.
Donald had extra tuition in Spanish, French and Mechanical Drawing.
1882-1890 - Technical education. Continuous and simultaneous with the latter half of school life and apprenticeship. During this time, Donald passed South Kensington exams then necessary in machine design, mechanical drawing, applied machines and elementary science.
Occupation.
Member of the American Society of Mechanical Engineers.
Associate Member of the Institution of Mechanical Engineers.
1885-1894 - Atlas Engine Co, Ladywood, Birmingham, England (apprenticeship).
Donald supported management and went through all shops. In 1891 Donald became an Improver, working especially on refrigeration plants.
1895-1896 - Simpson Strickland and Co, Dartmouth, Devon, England.
Tested high speed engines and Vedette boats.
1896-June 1898 - "Enock Bros", Dartmouth, Devon, England (Owner).
Yacht and Launch builders and engineers in Dartmouth. Enock Bros built a deep sea fishing steamer for the Duke of Leeds and a 220 passenger 8" draft boat for Rusden of Falmouth.
July 1898 - Transvaal Cold Stores of Durban, Johannesburg, Pretoria and Delagoa Bay (Chief Engineer).
Designed premises and went to New York, America, to supervise construction of machinery.
1899-1901 - South Africa.
Erected and operated premises and machinery.
1902-1905 - Own Business.
Designed, contracted for and erected cold stores for Durban Borough Market, Artic Co, Canterbury Co for a total value of £16,400.00. He also installed a portion of cooling plant for National Harbour.
1905-1908 - General Electric Co, South Africa.
Worked in the drawing office.
1909-1915 - Johnson & Fletcher, Rhodesia, South Africa (Engineer).
In charge of the drawing office and workshops, designing and constructing on their behalf the B.S.A Governments Oil Factory, Bacon Factory and Creameries and Mining Machinery and Pumping Plants.
1916-1923? - Own Business.
Designed, manufactured and installined special crushing machines for asbestos mines and constructed a double set of pumps and pipe line for B.S.A cities estate.
1923-1925 - Maritzburg-Glencoe Rly, Electrification, Rhodesia, South Africa (Supervising Engineer).
In charge of steel masts and bridging.
October 1925-1932? - Van Breda and Enock, Caledon, Cape Colony (Partner).
Their main responsibility was civil and mechanical consulting and contracting.
Family Relationships.
'Have heard from Don, acknowledging my letters about the dear dad's death. He takes it "philosophically", perhaps he does not feel it as I do. Dear old dad! Donald very bitter against Guy over some old patent question I gather and intends to "show him up". I have written him tonight advising him to let it rest: that life is too short.'
'Too sad - I heard the death of Donald, a letter came to Eric son Ronald & cable, and Guy wrote me about it, as did Eric: my heart has been very heavy since, poor Don, and how I prayed for him continually - perhaps it helped him, surely it did dear God. I can scarcely feel it true. Well, he is with the dear Dad' and Mother, all at rest in paradise.'
Information and excerpts taken from Charles' diaries (held by the Imperial War Museum).
Hobbies.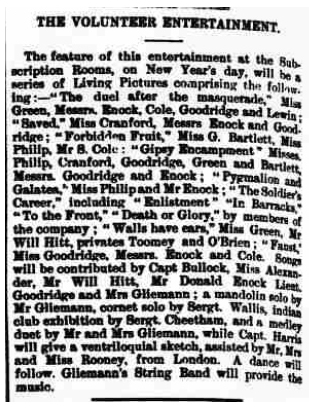 Do you have any more information on Donald? Please contact me at adam.c.enock@gmail.com.
Page updated 11th September, 2016.