Caroline Wheeler (nee Enock) (1807-1842).
Date of birth: Tuesday 24th February 1807.
Birthplace: Shrewsbury, Shropshire, England.
Date of death: Saturday, 17th September, 1842.
Cause of death: Phthisis (pulmonary tuberculosis).
Place of death: Frindsbury, Kent, England (Strood on death certificate) (aged 35 years).

Father: Robert Enock (1777-1817).
Mother: Sarah Enock (nee Robinson) (1781-1853).
Siblings: Sophia Kenway (nee Enock) (1808-1879), Sarah Enock (1810-?), Robert Enock (1811-1855), Arthur Enock (1813-1816), Mary Robinson Enock (1815-1840), Arthur Gregory Enock (1817-1838).
Husband: Edmund Wheeler (1808-1884), an admired scientific lecturer, manufacturer of microscopes and a skilled preparer of microscopic slides.
Date of marriage: Wednesday 20th February 1833.
Place of marriage: Quaker Meeting House, Birmingham, England.
Children: Sarah Anne Wheeler (1835-1863), Edmund Wheeler (1836-1930), Sophia Wheeler (1838-1871), Mary Caroline Wheeler (1840-?).
Residences.
1833-1842 - Kings Street, Dover, Kent, England.
Education.
Tuesday 15th June 1819 - Saturday 24th March 1821 - Ackworth School, Pontefract Road, Ackworth, Pontefract, England.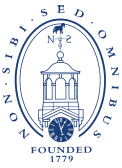 View Larger Map
Admit number: 4195.
Agent: Bernard Dickinson.
Relatives in attendance: Sophia Kenway (nee Enock) (sister), Thomas Enock (first cousin), Thomas Gilkes (second cousin).
Admission: 10 guineas per annum [£10.50 in today's money, measuringworth's calculator would say the relative value is £921.30.].
Life at Ackworth.
Caroline remained at Ackworth for the full duration of her education, meaning she had no contact with her family for two-years.
Caroline, Sophia, Thomas Enock and Thomas Gilkes, would have only seen one another at meeting for worship or other public occasions. To spend time together, the relatives would have congregated on a path running midway between the two wings known as "The Flags".
Scholars studied during the day, and undertook some manual work out-of-hours.
The curriculum between 1819-1821 consisted of:
Religious study (a chapter from the bible was read before breakfast).
English language.
Reading.
Writing.
Spelling (one-hour a day).
English Grammar (in upper classes).
English History (as of 1820).
Arithmetic.
Housewifery.
Needlework (spinning, sewing and knitting).
Geography (taught only to sixty of the upper girls - map instruction and the drilling of the rudiments of geography).
Manual work included:
Mending the linen.
Waiting at the Housekeeper's table where the members of staff took their meals.
Taking it in turns to assist the laundress and the mantua maker.
An essential feature to education at Ackworth was meeting for worship. A small part of every day was devoted to silent and serious thoughtfulness.

Staff at Ackworth during Caroline's schooling:

Superintendent: Robert Whitaker.
Principal Mistress: Isabella Harris (Reading Mistress).
Mistresses: Jane Stickney, Mary Polley.
Housekeeper: Hannah Whitaker.
Mantua-Maker: Elizabeth Cole, Susanna Smith.
Nurse: Mary Dumbledon.
Principal Tailor: Leonard West.
Principal Shoemaker: Samuel Whalley.
Baker: Isaac Wormall, Philip K. Jackson.
Relatives who attended Ackworth in the past:
Robert Enock (father).
Arthur Peters Enock (uncle).
Joseph Enock (uncle).
James Lewis Enock (cousin).
Additional information on Ackworth School can be found here.
Death.

Death notice:

Sept 17, Frindsbury, near Rochester, of pulmonary consumption, Caroline, wife of Mr Edmund Wheeler, late ironmonger of Dover, age 35 - Kent Gazette for 17/9/1842
'I have just checked the Rochester minutes & certs, but no indication she or the family transferred to the Rochester Meeting. There is merely a burial note recorded and the cert was sent to the Folkestone meeting where she was still a member. She is not interred in Rochester Friends Ground, so presumably her body was taken back to her home. She appears to have been on a visit to her in laws when she died, but her husband had stayed in Dover.' - Catharina Clement
The family after Caroline's death:
'He gave up his post as registrar for the Folkestone meeting in September 1842 and removed to Birmingham meeting with his 4 children in January 1843. (Mary Caroline is still alive then), but deceased by the time the family come to Rochester in March 1848. She either died in Hants or Birmingham. I would assume he went to his in laws the Enock's. From there the family moved to Basingstoke MM in late 1846 where he joined the Mechanics Institute and gave his first recorded lectures and patented his invention in 1847. By 1848 he is briefly at Rochester meeting, but returns a few months later back to Hants without his children. They all leave for Southwark MM in Sept 1849 & the family to 47 Nelson Square in London.
Edmund jnr came back to Rochester for two years in 1852-4 as a minor, presumably to undertake an apprenticeship before returning to join his father at Finsbury Circus in London - Catharina Clement
'1842 - Death of Caroline Wheeler:

17 September 1842 at Strood
wife of Edmund Wheeler, Ironmonger
COD: Phthisis (i.e. tuberculosis)
witnessed by Fred Wheeler, in attendance, Strood' - Brian Stevenson.
Additional information on Caroline and family can be found here:
http://photohistory-sussex.co.uk/BTNWheelerEdmundjnr.htm
Thomas Robinson Will.
The will of Thomas Robinson (Caroline's maternal grandfather) is detailed in the 'Reports of Cases Adjudged in the High Court of Chancery - Volume 3.' Pages can be seen here or by clicking the image below.
The will:
'A devise of land to trustees in fee, upon trust to pay the rents to Sarah (Caroline's mother), for life and after her death to apply them in the maintenance and education of all and every child and children during their minority, and when and as soon as all such children, if more than one, should have attained twenty-one, upon trust to sell, and to pay the proceeds of such sale "to and amongst all and every such child or children, share and share alike if more than one, and if but one, then the whole thereof to such only child'.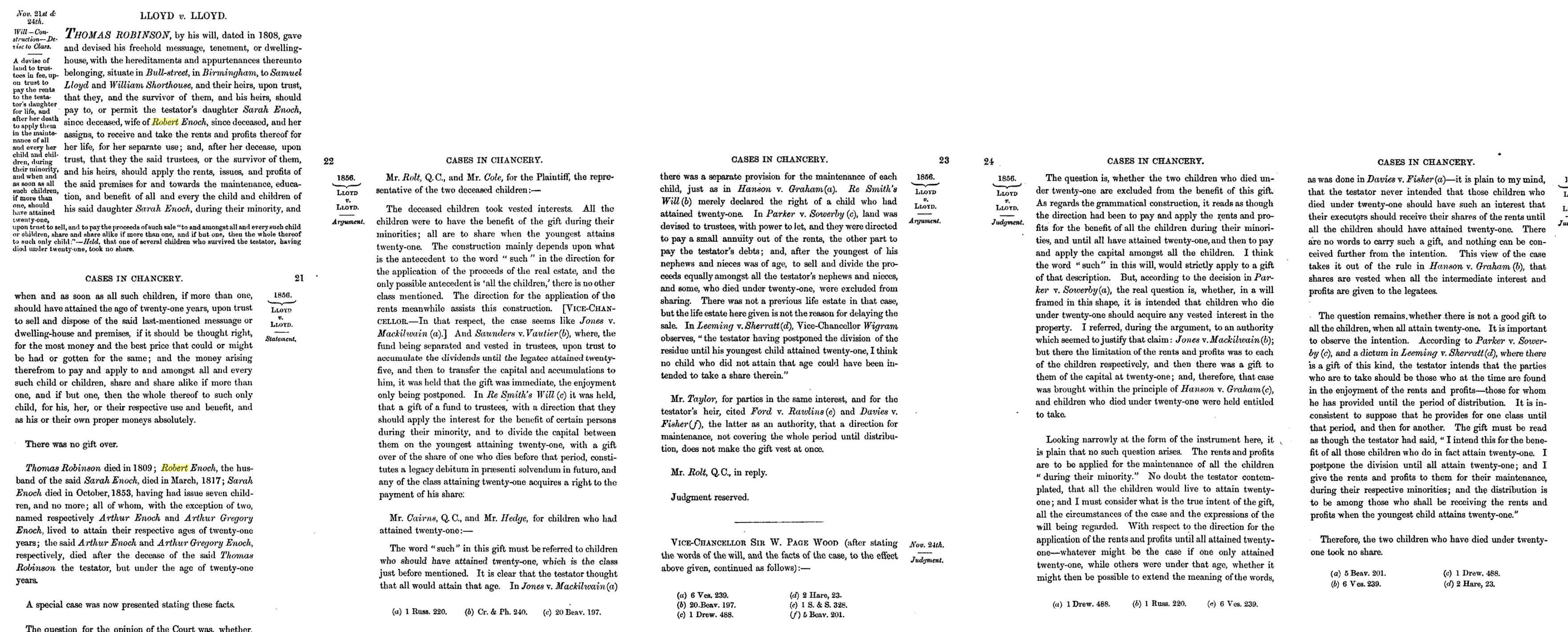 Thomas Robinson's will (click to enlarge).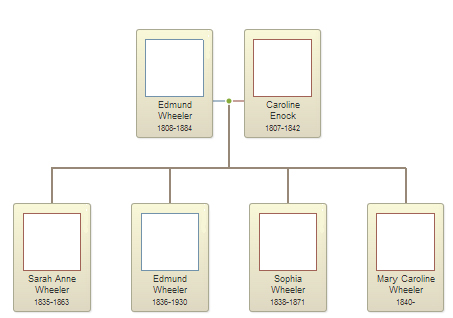 Do you have any more information on Caroline? Please contact me at adam.c.enock@gmail.com.
Page updated 9th September, 2015.