Arthur Gregory Enock (1817-1838).
Date of birth: Monday, 20th October, 1817.
Birthplace: Shrewsbury, Shropshire, England.
Date of death: Friday, 23rd February, 1838.
Cause of death: ?
Place of death: Birmingham, England? (aged 20 years).

Father: Robert Enock (1777-1817).
Mother: Sarah Enock (nee Robinson) (1781-1853).
Siblings: Caroline Wheeler (nee Enock) (1807-1842), Sophia Kenway (nee Enock) (1808-1879), Sarah Enock (1810-?), Robert Enock (1811-1855), Arthur Enock (1813-1816), Mary Robinson Enock (1815-1840).
Education.
Wednesday, 16th April, 1828 - Saturday, 9th July, 1831 - Ackworth School, Pontefract Road, Ackworth, Pontefract, England.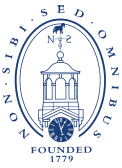 View Larger Map
Admit number: 5181.
Agent: Charles Lloyd.
Left with: George Bottomley to Moor Top in Stockport, England.
Relatives in attendance: Mary Robinson Enock (sister), Richard Gilkes (second cousin).
Admission: 10 guineas per annum [£10.50 in today's money, measuringworth's calculator would say the relative value is £921.30.].
Life at Ackworth.
Arthur remained at Ackworth for the full duration of his education, meaning he had no contact with his family for a year.
Arthur, Mary and Richard Gilkes would have only seen one another at meeting for worship or other public occasions. To spend time together, the relatives would have congregated on a path running midway between the two wings known as "The Flags".
Scholars studied during the day, and undertook some manual work out-of-hours.
The curriculum between 1828-1831 consisted of:
Religious study (a chapter from the bible was read before breakfast).
English language.
Reading.
Writing.
Spelling.
English Grammar (in upper classes).
English History.
Mathematics (mainly arithmetic, older boys studied land surveying, Trigonometry, Mensuration and a little elementary Algebra).
Geography (introduced in 1807 - taught only to sixty of the upper boys - map instruction and the drilling of the rudiments of geography).
Latin (taught to twenty of the most advanced scholars).
Manual work included:
Waiting the table.
Cleaning shoes and knives.
Helping in the bakery and the dairy.
Working in the garden or on the farm.
An essential feature to education at Ackworth was meeting for worship. A small part of every day was devoted to silent and serious thoughtfulness.
Staff at Ackworth School during Arthur's schooling:
Superintendent: Robert Whitaker.
Masters: Henry Brady (Reading, Writing, Grammar and Latin Master), Thomas Brown, Henry Hawley, John Newby (Grammar Master), Robert Doeg.
Housekeeper: Hannah Whitaker.
Boys' Matron: Elizabeth Preston, Maria Pasco.
Nurse: Mary Dumbledon, Elizabeth Airay.
Principal Tailor: Leonard West, George Frederick Linney.
Principal Shoemaker: John Wright.
Baker: Benjamin Walker.
Husbandman (Farmer): Robert Graham.
Principal Gardener: James Jones.
Relatives who attended Ackworth in the past:
Robert Enock (father).
Arthur Peters Enock (uncle).
Joseph Enock (uncle).
James Lewis Enock (cousin).
Caroline Enock (sister).
Sophia Enock (sister).
Sarah Enock (sister).
Robert Enock (brother).
Thomas Gilkes (second cousin).
Sarah Gilkes (second cousin).
William Gilkes (second cousin).
Additional information on Ackworth School can be found here.
Occupation.
1843 Ackworth Old Boy Survey - Druggist.
1843 Ackworth Old Boy Survey.
In 1843, the various monthly meetings were asked to conduct a survey of the fortunes of Ackworth old boys, who had been at the school between 1799 and 1843. Arthur's survey was as follows:
Ackworth number: 5181.
Name: Arthur G Enock.
From what place sent: Birmingham.
Time of leaving Ackworth: 1831.
Is he now living; if deceased, in what year or about? Dead.
To what trade was the boy apprenticed: Druggist 1838.
What trade did the man follow when a man: (blank).
Has he married: (blank).
Has he entered into business on his own account, or remained an assistant to others: (blank).
Has he failed in business or become dependent on his friends: (blank).
Is he now in membership with the Society of Friends: Yes.
If disowned, state whether for immoral conduct, failure in business or marriage contrary to rule: (blank).
Has he emigrated and if so, to what country: No.
Do you have any more information on Arthur? Please contact me at adam.c.enock@gmail.com.
Page updated 9th September, 2015.