Full name:
Anna Mary Enock.
Date of birth: 1841.
Birthplace: Sibford Gower, Oxfordshire, England.
Date of death: Wednesday, 22nd January, 1918 (aged 76 years).
Place of death: Sibford Gower, Oxfordshire, England.
Will: Effects: £1,795. 9s. 9d. (worth £102k in 2020). Executors: Joshua Lamb and Eric Henry Richardson.
PARENTS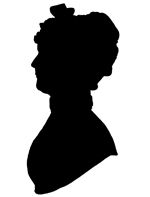 Ann Enock
(née Prophett)
(1799-1875)
SIBLINGS
Husband:
James Abbatt (1831-1895).
Date of marriage:
1890.
Place of marriage:
Sibford Gower, Oxfordshire, England.
1841-1871 - Sibford Gower, Oxfordshire, England.
1871-1890 - Prospect Villa, Bonds End Lane, Sibford Gower, Oxfordshire, England.
Living with her sister Elizabeth Wells and family.
1890-1901 - Fairview, Main Street, Sibford Gower, Oxfordshire, England.
James Abbatt was the fourth son of Benjamin and Elizabeth Abbatt, of Bolton, Lancashire, and was born there on the 1st of First Month, 1831. On leaving Ackworth School, in 1845, he was for over thirty years more or less engaged in business, but finally relinquished it, believing that God had called him to devote his whole time to Christian work.
During his business career he married Mary Hannah Lamb, of Sibford, who proved a true helpmeet to him in all ways. With her he took charge, in 1880, of the newly-formed Mission and School at the Pales, in Radnorshire, in succession to Yardley Warner and his wife. Whilst there he was recorded a minister in 1884. He describes the years spent there as being "a very isolated, but a joyous life." He afterwards went to St. Ives, in Huntingdonshire; and later on to Newport, in the Isle of Wight. At Newport he had to pass through great and peculiar trials, culminating in the loss of his dear wife ; but under all he proved the truth of the assurance that though "many are the afflictions of the righteous, yet the Lord delivereth him out of them all."
He loved to trace the good hand of his God upon him, and His guiding care over him in his various removes. His service in these places made him more widely known than he would otherwise have been, and he felt it a privilege to be thus brought into contact with many dear friends and Christian workers. He always looked back with satisfaction to this work in his Master's vineyard.
In 1890 he married, as his second wife, Anna Mary Enock, of Sibford, and made that place his residence for the few remaining years of his life, endearing himself to all classes alike, and delighting to have his friends around him in his quiet home.
He had for many years been a diligent student of Holy Scripture, his well-marked Bibles and accompanying notes evincing this ; and thus he became "a workman that needed not to be ashamed, rightly dividing the word of truth," as well as a valuable helper in all Bible class work.
For some months before his last illness his strength had been failing, and after the Eleventh Month of 1894 he declined more rapidly. Whilst still able to write to his relatives, he said, in the prospect of death, that he hoped to glorify God as long as he lived; and this he was enabled to do. It was comforting to find that even when delirious his thoughts were still dwelling on his God and Saviour. One day he emphatically repeated, "God is love; God is love"; adding, Were my life prolonged, I would specially dwell upon that text." When one quoted the words, "For ever with the Lord," his immediate response was " Amen, so let it be." No cloud seemed to disturb his perfect peace; and he constantly acknowledged that "goodness and mercy had followed him all the days of his life."
He passed away in sleep, we reverently believe, "to dwell in the house of the Lord for ever." - James Abbatt's obituary published in the Annual Monitor 1896.
Page updated 19th July, 2020.