John Enock (1834-1883).
John was born to Ezra and Ann Enock (nee Prophett) in Sibford Gower, Oxfordshire, England on the 13th October 1834.
View Larger Map
In the 1861 census, John is living with his mother in Sibford Gower. His profession is listed as a Clock Maker.
In 1865, John married Elizabeth Jordan in Chipping Norton, Oxfordshire.
View Larger Map
In the same year, Elizabeth gave birth to their first child, John Ezra.
In 1867, Elizabeth gave birth to their final child, Mary Ann.
In the 1871 census, John and family are living in Norton House, Sibford Gower.
In 1876, John and Elizabeth's son, John Ezra passed away aged 11 years.
In the 1881 census, John lists his occupation as income from land and houses.
On the 16th September 1883, John passed away aged 48 years.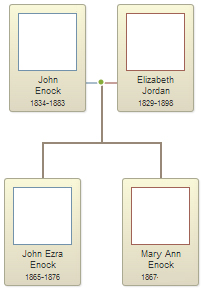 Do you have any more information on John? Please contact me at adam.c.enock@gmail.com.