Lucy Halford (1832-1892).

Lucy was born to William and Mary Ann Halford (nee Patience) in London, England in 1832.

In 1841, Lucy was living with her parents at Chapel County Place in Stoke Newington.

The 1851 census shows that Lucy was a servant for a family who were living on Middle Road in Leighton Buzzard.

In the 1861 census, Lucy is living with her family at No 2, Red Lion Lane in Stoke Newington. It appears that the road name has reverted back to Lordship Lane.


View The History of Stoke Newington in a larger map

In the same year Lucy married Peter Simmons (Undertaker, 1836-1895, born in London, passed away in London) in the City of London, England. The couple had 5 children, Marianne, William, Eleanor, Ada and John.

In 1871, Lucy and family were living at 201, High Street in Stoke Newington.


View Larger Map

On the 14th January 1892, Lucy passed away in Stoke Newington, London aged 59 years. She is buried in the Friends Burial Ground of Stoke Newington.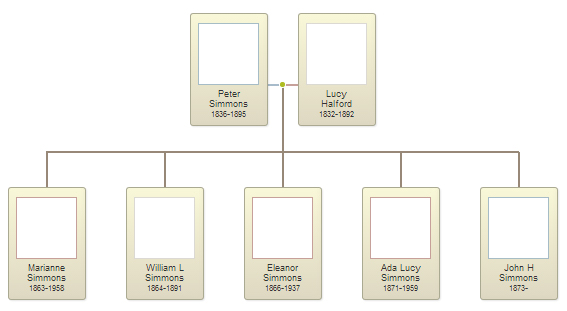 Do you have any more information on Lucy? Please contact me at adam.c.enock@gmail.com.