Edward Burton Payne (1856-Unknown).
Edward was born to Edward and Elizabeth Payne (nee Enock) in Edgbaston, Birmingham in 1856.
On the 17th January 1857, Edward was baptized at St. John the Evangelist in Birmingham.
Edward spent his first year living on Monument Lane in Edgbaston, Birmingham.
Between 1858 and 1861, the family lived on the Duchess Road in Edgbaston.
View Larger Map
Between 1863 and 1871, the family were living in Aylesbury House in Packwood, Warwickshire.
View Larger Map
In 1881, the family were living at 6 Lottie Road in Northfield, Birmingham. In the census, Edward's occupation is listed as 'Architects Clerk'.
View Larger Map
In the 1891, it shows that Edward was boarding with a family named Aske, who were living on the Waverley Road in Kenilworth, Warwickshire. Edward had changed occupation and was now a 'Patent Agent'.
View Larger Map
In 1908, Edward married Edith Alexandra Aske in Birmingham, Warwickshire.
The following year, Edith gave birth to their only child, Josephine Yseult Burton.
In 1911, the family were living at The Grove in Hampton in Arden, Warwickshire. Edward was still working as a Patent Agent.
In 1923, Edward and family were living at 5 Liverpool Road in Eastbourne, East Sussex.
I am unable to find any information on Edward's passing at present.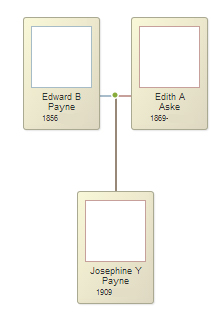 Do you have any more information on Edward? Please contact me at adam.c.enock@gmail.com.