Francis Elizabeth Wells (1874-1975).
Francis was born to John and Elizabeth Wells (nee Enock) in Sibford Gower, Oxfordshire, England on the 12th June 1874.
View Larger Map
From 1874 to c1898, Ann lived in Prospect Villa, Sibford Gower.
In 1896, Ann gave birth to George William, the first with her future husband, William George Wells.
In 1898, Francis married George William Wells in Banbury, Oxfordshire.
View Larger Map
In the 1901 census, Francis and family were living on Prince Edwards Road in St. Anne, Sussex.
In 1904, Francis gave birth to their final child, Arthur Leslie.
In 1911, the family were living at 3 Manfield Road in Northampton, Northamptonshire.
View Larger Map
In 1975, Frances passed away in Mendip, Somerset aged 100 years.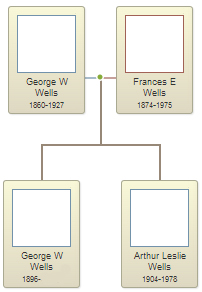 Do you have any more information on Frances? Please contact me at adam.c.enock@gmail.com.