Charles William Frederick Laming (1884-1957).
Charles was born to Arthur and Lucy Laming (nee Biffen) on the Isle of Wight in 1884.
Between 1889 and 1891, the family were living at 82 Belmont Street in St. Pancras in London.
View Larger Map
In 1901, the family were living at 5 Melton Road in Tottenham, London. On the census, Charles lists his occupation as a 'Carpenter'.
On the 27th October 1909, Charles married Ethel Maude Williams (born Highbury, London, 1883-1958) in Christ Church, West Green, Middlesex. The marriage indicates that Charles was living at 32 Carlingford Road, West Green and was an 'Assurance Agent'. Ethel lived at number 34. The couple had a child, Arthur Frederick.
View Larger Map
Ethel moved in to 32 Carlingford Road and they lived here between 1909 and 1913. The 1911 census states that Charles' occupation was 'Superintendent Of Collectors'.
In 1957, Charles passed away in Edmonton, London aged 72 years.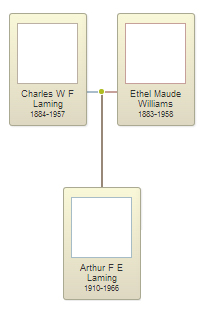 Do you have any more information on Charles? Please contact me at adam.c.enock@gmail.com.