Ann Halford (nee Reynolds) (1774-Unknown).
Ann was born to John and Esther Reynolds (nee Enock) on the 19th September 1774 in Kenilworth, Warwickshire in England.
On the 22nd July 1798, Ann married Edward Robinson Halford (1764-1804, born in Dudley, Glover) in Dudley, England.
The couple had 2 children, William Frederick and Phebe.
In a statement written by Edith Mary Halford (Ann's grand daughter) it states that Ann re-married to an Owen of Bewdley.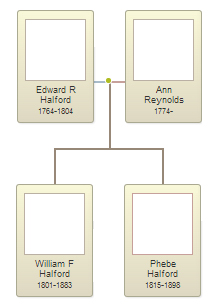 Do you have any more information on Ann? Please contact me at adam.c.enock@gmail.com.