Ann Biffen (nee Halford) (1825-1902).
Ann was born to William and Mary Ann Halford (nee Patience) on the 11th April 1825, in Clerkenwell, London in England.
In 1841, Ann was living with her parents at Chapel County Place in Stoke Newington.
By 1851, the family were still living in Stoke Newington, but had moved to Lordship Lane (changed to Red Lion Lane and then back to Lordship Lane).
View Larger Map
On the 4th October 1852, Ann married William Biffen (1823-1867, born in Bath) in Highbury, England.
The couple had 6 children, William, Charlotte, Lucy, Edwin, Agnes and Julia.
In 1861, Ann and family were living on the Howard Road in Stoke Newington.
View Larger Map
In 1867, Ann's husband William passed away aged 44 years.
In the 1871 and 1881 census', Ann and children were living in her father's house at 2, Red Lion Lane in Stoke Newington. In 1871, Ann listed her occupation as a Tea mistress and as a Tailoress 1881.
In 1901, Ann her daughter Julia, were living with Thomas Francis and family at 31A Essex Road in Islington.
View Larger Map
In 1902, Ann passed away in London aged 76 years.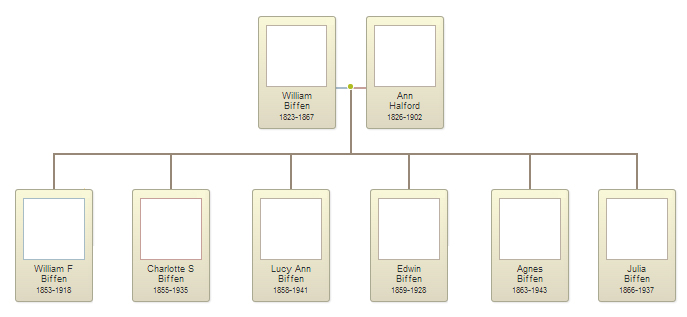 Do you have any more information on Ann? Please contact me at adam.c.enock@gmail.com.