Reginald Charles Fairweather (1896-1970).
Reginald was born to Charles and Amelia Fairweather (nee Blake) in Battersea, London, England on the 24th July 1896.
On the 24th October 1897, Reginald was baptised in Clapham, London.
In 1901, Reginald was living with his family at 52 Marney Road in Battersea, London.
View Larger Map
In 1911, Reginald and family were living at 153 Queens Road in Wimbledon, London. Reginald was still at school.
View Larger Map
In 1924, Reginald married Alice Glasscock (born 1898, Cambridge) in Cambridge, Cambridgeshire. The couple had one child, Ivor.
In 1970, Reginald passed away in Liverpool, Lancashire, aged 73 years.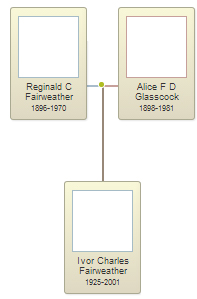 Do you have any more information on Reginald? Please contact me at adam.c.enock@gmail.com.