Dorothy Lily Palmer (nee Rivers) (1894-1983).
Dorothy was born to William and Celia Ann Palmer (nee Rivers) in West Derby, Lancashire, England on the 3rd August 1894.
In 1901, Dorothy was living with her family at 52 Hall Road in Sale, Manchester.
In 1911, Dorothy was living wither her family at Hillside on the Cartwell Road in St. Anne's on Sea, Lancashire.
View Larger Map
In 1921, Dorothy married Horace L Palmer in Steyning, Sussex. The couple had one child, William.
In 1983, Dorothy passed away in Kingston upon Thames, Greater London, aged 88 years.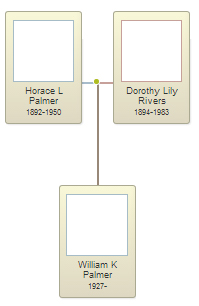 Do you have any more information on Dorothy? Please contact me at adam.c.enock@gmail.com.