Arthur Guy Enock (1870-1956).
Can Guy Settle The Boer Dispute?
In 1899, Arthur Guy Enock made attempts with President Kruger, Jan Smuts and Francis William Reitz to settle the Boer and British dispute without recourse to war.
Guy talks about these attempts in his book, 'This War Business', which I have reproduced here in full:
'For years I had only abhorred war but considered it stupid and unnecessary, while the hope of being able some day to something about it was constantly with me.
In 1899 I was engineer in charge of a far-reaching cold storage scheme for Pretoria, Johannesburg, Delagoa Bay, and Durban, sponsored by the Government of the "Zuid Africansche Republiek." My headquarters in Pretoria were opposite "Oom Paul's" front door at the other side of Kerk Straat, and I often observed the comings and goings of officials and the arrival of despatch riders. While at work in Johannesburg in early September it came insistently upon me that there was a duty to perform in endeavoring to place before the leaders of the Republic the rightness of making every further effort possible to settle their differences with the British Government before it came to late. I saw all the preparations for a struggle going on day by day around me, and can testify to the mounting political tension and suspense. People were leaving daily in large numbers, shops and stores barricaded, private houses left to their fate, and armed and mounted burghers were busy in collecting horses, forage, and war stores to be sent to the borders of the Republic. Race animosity was rendered more bitter by the "commandeering" of Uitlanders' property for military purposes, and by the arrogant actions of the police and military authorities towards non-burghers.
On Saturday afternoon, 9th September, there was a great meeting on Government Square, Johannesburg, convened by a certain Bain, posing as a supporter of the Government, and the meeting was broken up by a crowd of angry Uitlanders, the latter being eventually dispersed by a body of "Zarps" (mounted police) with drawn swords, who drove the excited crowd helter-skelter in all directions, causing injuries to several people. I escaped with damage to my watch and an old family fob-seal! Perceiving to what these events were leading, I cast about to find how my concern to do something in the cause of peace could be discharged.
Having laid myself before God in prayer, I was led to write direct to the President, who already knew me as the engineer of the cold storage scheme in which he took a great interest. Some quotations from my letter follow:
To His Honour S.J.P. Kruger, Staats President, Pretoria.
17th September, 1899.
Sir,
As one who believes sincerely and devoutly in the message of Jesus Christ delivered from God - "peace on earth. Good will to men," and also as a member of the Society of Friends (called Quakers), I take the liberty of addressing you direct in the matter of the differences between the Governments of the South African Republic and Great Britain.
It appears to me that we are on the verge of a terrible conflict in this country, and to my mind it is entirely unwarranted by circumstances.....
The time is now ripe for you to settle this troubled state of affairs and to use your great influence towards the establishment of good faith. Believe me when I assure you that on the British side there is a large and powerful party waiting to grasp your hands in friendship, and to help you realise with all in this country and in the world that "Eendragt maakt magt."
Will you not put your enemies to shame and confusion by extending your hands to those who wish to be friendly? Posterity would then learn that in this critical time there was at least one great man who could sink his personal pride and bring peace out of a situation which seemed full of darkness and despair......
I pray you for leave to put before you a suggestion of means honourably settling the crisis, and only wait your permission to come to you, trusting that you will delay your reply to the last British despatch until you have heard me....
Thinking that owing to pressure of affairs the letter might not reach the President, or might not be fully translated to him unless some person made a special point of looking after it, I wrote at the same time to Mr. J. C. Dieperink, a member of the First Raad, and to Burgomaster Potgieter of Pretoria, both of whom I knew well, asking them to see that my letter should be properly translated and brought directly before the President.
Nothing transpired for a week, and then Burgomaster Potgieter came over to Johannesburg and we discussed ways and means. We decided that should nothing come shortly from the President or State Secretary, it would be best for me to outline what I wished to lay before the President and enclose it in a letter to Potgieter, and then for him to translate it and interview the President himself, arranging, if possible, for me to go over and follow the matter up. Hearing nothing, I wrote to Potgieter, sending him a telegram at the same time to bring the matter strongly before him.
To Burgomaster Piet Potgieter, Arcadia, Pretoria.
27th September, 1899.
My dear sir,
Reverting to our conversation, the following are the notes I desire to, bring before the President. Feeling assured that both he and the Volksraad desire to deal justly and fairly with the inhabitants of the State, and assuming that the burghers will support any action to that end which will enable the Government to settle this crisis with dignity and honour, I believe that these notes and suggestions may assist in forming a basis of agreement. It is also beyond doubt that the British will recognize that the proposals are fair. . . .
The S.A.R. Government should take the initiative in this matter, and thus show to the whole world that they are desirous of maintaining peace and are also able to lead the way for other nations in settling international difficulties. . . .
(Notes). Whereas the S.A.R. Government is desirous of arriving at a peaceful settlement of the existing differences between it and Her Majesty's Government, with satisfaction and honour to both sides, and it therefore makes the following suggestions entirely without prejudice to its legal position. . . .
Then followed (after certain reservations under the 1884 Convention) a general preamble setting out the present position, referring to some of the causes of the dispute and suggesting terms for a new franchise law. In the last named section was this paragraph:
The Goldfields (Rand) to return 10 members, and to always return at least 25 per cent of the total Raad members. Any new members may be permitted to use their own language for a period of two years after their election, and before a division is taken on any important subject, the existing Raad members to receive a translation of the speeches of the new members, and vice versa...
Other points were:
The Goldfields also to have a municipality with wider scope than the present, empowered to raise loans for public works, and having the control of a municipal police force.

A Commission of old and new burghers to be appointed, to inquire into the working of all concessions, and no more concessions or monopolies to be granted until tenders have been called for making or supplying articles for which any person desires a concession.

The Coolie question to be' decided by an equal-sided Commission of old and new burghers.
I believe that a peaceful settlement can be arrived at . . . and that if the Government of the S.A.R. proposes a joint conference on these lines, they would.....defeat the War parties of England and South Africa....
I trust that you will be able to bring these ideas before the President, and will be only too happy to do anything I can to further the object in view, either here or through the influence of my friends in England.
(Note. The other parts, of my suggestions, not quoted above will appear in the discussion with the President.)
I learned later that my letter had been brought before the President, Executive Council, and prominent members of the Volksraad. Two days later, on Friday, 29th September, I received the following letter from the Under State-Secretary.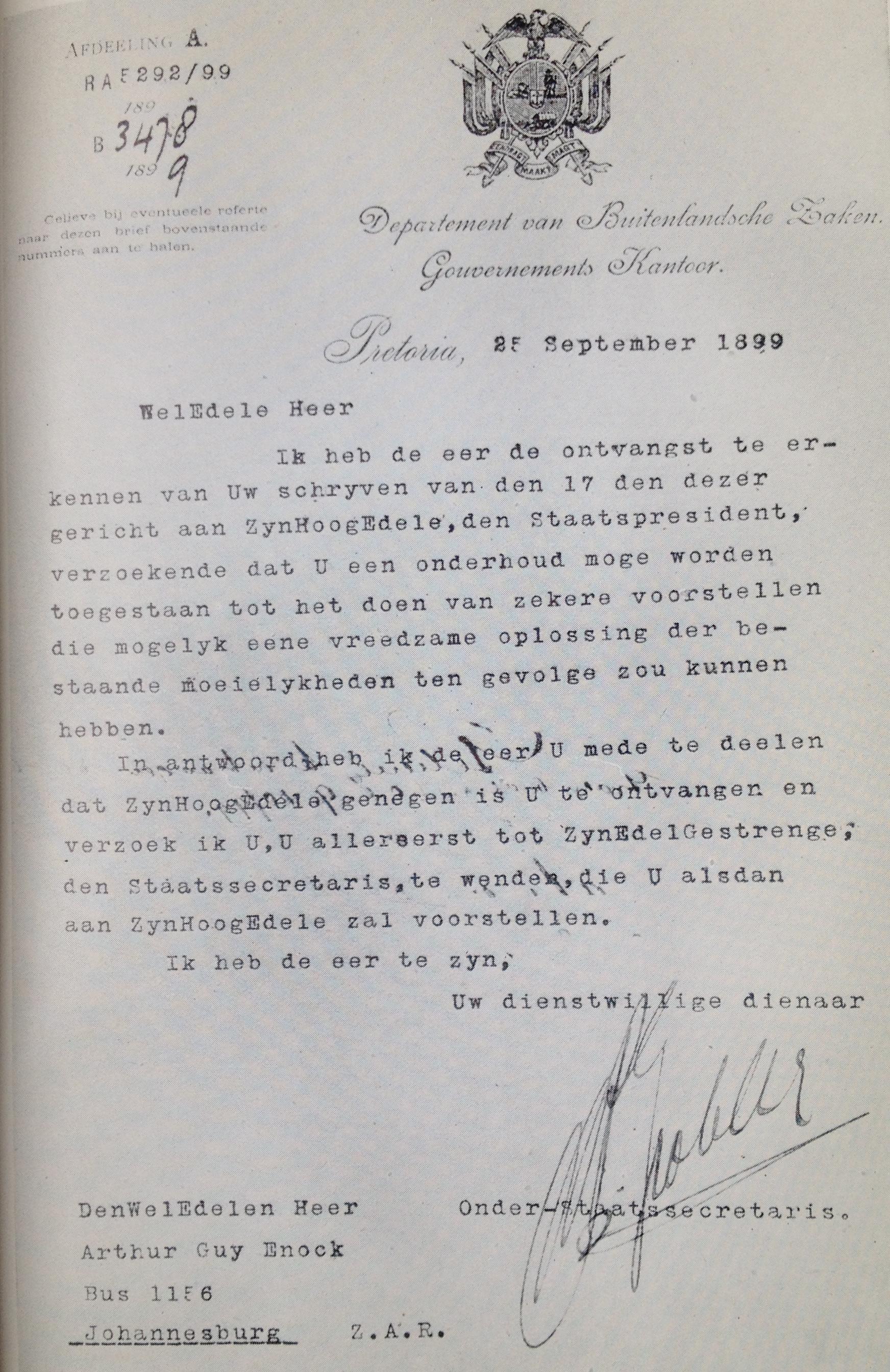 Click to enlarge.
Translation:
Dear Sir,
I have the honour to acknowledge the receipt of your letter of the 17th instant, addressed to His Honour the President, saying that you are desirous of assisting peaceful settlement of the matters now pending, and are willing to put before him certain ideas to that end.
In answer, I have the honour to inform you that the President is ready to receive you. Will you kindly call at the State Secretary's private office, and he will then go with you to the President.
I have the honour to be,
Your obedient Servant
Piet Grobler
Under State Secretary.
On receipt of this letter I immediately left Johannesburg and called at the State Secretary's office in Pretoria, on Saturday, 30th September. He had left when I arrived, but I followed him to his house and was again unsuccessful in catching him. However, after several calls I found him at home, at 8 p.m., and we had a long talk. He was very cordial, and we smoked the pipe of peace together on some of his excellent Boer tobacco. After arranging to meet him with Mr. Piet Grobler at the Government offices on the Monday morning, I rode home on my bicycle, taking a circuitous route along the beautiful Arcadia roads into Pretoria, and praying for strength to be guided in my interview with the President. They were indeed weighty hours to me, and that ride around Pretoria in the brilliant moonlight is one that is forever imprinted on my mind.
The next day (Sunday, 1st October) passed gloomily over Pretoria, and there were rumours of all kinds being circulated. The trains were packed with Uitlanders, and at night the city was almost deserted. I sent a cable to my friends in London saying what I was trying to do.
I saw Burgomaster Potgieter again that morning to tell him what had transpired and, having in mind the risks of free movement and the fact that I was then officially stationed in Johannesburg, we thought it well for me to carry a document which would ward off awkward inquiries by zealous "Zarps." He have me the "pass," of which this is a translation:
This is to grant my permission, to Mr. Enock and as director of "Koelkamers" [to say] that I have not the least doubt that he will endeavour to facilitate the matter of the Transvaal in London and that he will try to straighten out the misunderstanding, thereby arranging a peace settlement.
P.J. Potgieter.
On the next morning , 2nd October, I kept an appointment with Reitz at the Government Office, and we went through my letters to the President and Piet Potgieter, discussing many collateral points. He was again very cordial, and approved my having cabled to my friends. Shortly Grobler came in, and it was much more difficult to convince him that there was any use in my proposed action. After a good deal of argument, in the course of which he constantly reiterated the desire of the S.A.R. for peace, and that of England for grabbing the Transvaal, it seemed as though we were at deadlock. However, I put the question to him : "Do you consider that you have left no stone unturned to accomplish the peaceful solution you so much desire?" He again poured out a long list of the things the Boers had done to bring about a peaceful end, and reiterated the bad faith of the British Government. I had great work to persuade him to listen to me, but he eventually began to look at matters more from my point of view, and promised to assist me in any way possible. Reitz had left the office at this time, and I then laid before Grobler a tentative draft of a cable which I proposed to send to London. The following was the draft, to be despatched only with the approval of the S.A.R. Government, and after having seen the President.
English general opinion is settlement basis despatch 19th August very satisfactory. I have seen Kruger, Reitz, Grobler, who will agree make further offer of those terms, meeting language question purpose showing genuine desire peace. The feeling here is unmistakably for endeavors to get settled in a friendly manner.
After a good deal more discussion with Grobler he said that he was unable, officially, to agree to my sending that cable, and asked me again to see Reitz, who was also the Telegram Censor.
Being unable to get hold of Reitz again that day during his office hours, I called at his house about 8 p.m., and was fortunate in finding him. We discussed matters again at length, and he fully endorsed my sending the proposed cable, asking me to see him at his office the next morning in case anything fresh had transpired, and then to see the President before despatching my message. He agreed, as Censor, to ensure its despatch promptly. Some alterations were made by us in the draft of the cable, which then read as follows:
English general opinion is settlement basis despatch 19th August very satisfactory. I have seen Kruger, Reitz, Grobler, who will agree make further offer of these terms meeting language question purpose showing genuine desire peace. The feeling here is unmistakably for endeavors to get settled in a friendly manner. Chamberlain's change of position considered anything but honourable. Public mislead significance despatch 19th August, which meets Bloemfontein proposals. Kruger, Reitz agree mutually delay military preparations pending appeal British Nation.
I did not like the last four words but it was the best draft that could be achieved at the moment.
Next morning, Tuesday, 3rd October, I called on Reitz at his office at 10 a.m and sent in my card. He at once came out and took me aside and conversed for a few minutes ; he was exceedingly busy, and unable to take me to the President just then, asking me to postpone the matter for a day. I pointed out that I could not send the cable as drafted by us last evening or any other message until I had seen the President. He then said, in a whisper: "I am glad to inform you that the Government is sending a cable direct to Lord Salisbury along the lines of the one we drafted last night, and you can add the following words to your draft cable": "Have just learned that Government are sending cable above effect direct Lord Salisbury as a last resort." I demurred and again urged him to arrange the interview with the President without further delay. He asked me to call again shortly before twelve mid-day and he would then arrange the interview.
I returned at 11:55 and was taken into Reitz's office. He said I must excuse him, as he was entirely too busy to take me down to the President, and that I had better go alone. I at once perceived that his manner was changed, and the reason for that appears hereafter. I pointed out to him that it was of great importance that I should see the President and get his consent to the cable without delay, and that it would be useless for me to go alone, as I was unable to converse in Dutch. Grobler was also unable to go, so Reitz at last gave me a very hurried note of introduction to the President's Private Secretary. Armed with that I went down to the Presidency, where I found the old man sitting on the stoep with his wife and a number of children. In the best Dutch I could command I asked the guards at the gate for the Private Secretary, and was dismayed to find he was not in. Then asking if there was anyone who could translate for me, the footman came out and explained in English that the Private Secretary was away, and suggested my coming back with Mr. Reitz. I rode back to the latter's office, and he had gone home, went to Grobler's office, and found that he was away. It was now after mid-day, and I was disheartened, hot and very tired, so I waited until 2 p.m. and then rose out to Potgieter's house at Arcadia, putting the whole thing before him and asking his help. He was very considerate, and offered to do anything he possibly could, but he added:
I am not as good a man for your purpose as Piet Grobler, because the President does not discuss these kinds of matters with me, and they look upon me as not being sympathy with the war talk. But Grobler is like the President's right hand and ear, and if you can convince him the President will think in the same way.
Thanking him, I sallied out again to find Grobler's house, and arrived there to find that he had gone back to the office. On my arrival there his clerk informed me that the Executive Council (consisting of the President, Reitz, Grobler and Smuts) was then sitting, and that I would be unable to see Grobler until after 4 p.m. I pressed the clerk to take my card in to the council chamber, saying that my business was important and urgent. He did this, and I was shortly taken down to Reitz's office, where I found him and Grobler. It is needless to recount all the long arguments put forward. I felt that no words could express all that took place. One point that is strongly imprinted on my mind is that when Reitz and Grobler had practically agreed to recommend the President to send that cable as drafted, Smuts came in and upset the whole position by appealing to the worst feelings of the other two men - "Are we to eat dirt before these people?" he asked. "Are we going on our hands and knees before them?" and so on. He influenced the others so much that they veered round a great deal, and Reitz commenced a tirade against the British Government, the Uitlanders, the Jameson Raid, and everything British. For some moments the matter looked like falling through altogether, when a diversion occured which enabled me to see a way through the difficulty. A tremendous cheering arose outside, and on looking through the office windows into the Government Square we beheld a large "commando" of country Boers who had come to present themselves for congratulations before going to the border. Reitz and Smuts went out to wish them good luck, and Grobler remained looking out of the window - thus an opportunity was afforded for a quiet appeal for strength. Smuts and Reitz shortly returned, and the former asked in a jocular manner: "You see what is going on Mr. Enock, yet you still think there is good to be gained by your cabling." With as much outward calmness as I could command I replied: "Do you believe Mr. Smuts, that all this is in any way indicates that God wishes for war on earth, or that He has gone back on the declaration Christ made?" He was silent, and I felt emboldened to plead more strongly than ever with Grobler and Reitz to make an effort to persuade the President to re-open negotiations and add what he could regarding the language question. They then began to protest that the world would call them cowards, and would say that they had climbed down if they sent that message - it was then that I discovered that the message to Lord Salisbury,as previously mentioned by Reitz, had not been sent off. Dissension had arisen, and although I knew that Reitz had been very strong in his desire to sent the message, yet he had been diverted.
It became clear by Smuts' attitude and observations that his sense of equity was deeply outraged by the memories of the Jameson Raid, and, more particularly, by the overbearing despatches from Chamberlain and his bewildering change of tactics, the "massing" of British armed forces on the Transvaal borders and by the absence of any real British recognition of the advance that had been made by his Government to meet Milner's franchise proposal at the Bloemfontien Conference. Indignation at the treatment received and the pressure exerted played a major part. I must also confess that inwardly, I shared this indignation but did not feel that it would help matters to express it. Realising their frame of mind, brought about by so many adverse factors, I should not have been surprised if they had treated me, an Englishman, as a complete outsider in that discussion, but they behaved as gentleman should.
After a good deal more conversation Grobler went into the Executive Council Chamber with my draft cable, and shortly after came out and took me into the Chamber, where I found President Kruger seated alone. Grobler introduced me, and the President shook hands warmly, his great hand almost enveloping mine. Grobler translated and I asked him to recount breifly to the President the pith of our disucssions up to that time. He did so, and I could clearly see that he was putting a good case to the President. Smuts was not present. When Grobler had got through, he said to me: "The President wants you to say exactly in your own words what you propose to do." I did so, and Grobler translated word for word, the President listening attentively with one hand on my knee , pressing it down as he understood what I was saying. When the proposed cable had been read he was emphatically against saying that they repeated their offer, and I was in the midst of explaining the vital importance of that point when Smuts came into the room.
He swayed them against allowing me to send the cable, even by using taunts and innuendoes. Grobler turned on him once and spoke sharply to him, and the President seemed annoyed at his interruptions. However, my suggested cable was pared down between them, and I asked the President if he would say at least that they would maintain their offer of 19th August instead of repeating it. He got angry with me at this, and demurred against his name being coupled with the interview at all.
Smuts then suggested that the offer was still open for the British Government to take up if they desired to do so as the S.A.R. Government had not withdrawn it, and I replied that if that were so there could surely be no objection to the cable being sent. Eventually Grobler, drafted a message which was approved by the President, the State Secretary, the State Attorney, and Wolmarans (who had joined us), and which was to be embodied in my own message.
While Grobler was writing the draft cable, some general remarks were passed between the President, Smuts, Reitz, and myself, and I could not fail to note the tone of indignation, bitterness and distrust towards the British Government. One remark I made about the honour of the Imperial authorities was received with incredulous smiles, and I felt how hopeless a task I had embarked upon. The President said once: "Where are your John Brights? With one such man as he in the Cabinet the situation would probably never have arisen." Throughout was the underlying conviction that Chamberlain intended the subjugation of the Transvaal.
After the cable was drafted and I was about to retire from the Council Chamber, the President said something to Grobler which he interpreted when we got outside. It was to the effect that action would have to be speedily taken on the cable if it were to be of any use. I gathered that the Boers contemplating taking the initiative and precipitating matters before further English troops arrived. We shook hands cordially and parted, I with a good opinion on Grobler and the President, but feeling neither Reitz or Smuts had helped much. As I remarked to Grobler in parting, if I could cabled that the Government repeated their offer of the 19th August ex gratia, I believed it would be more effectual than the message he had just drafted. Directly after leaving Grobler I coded and despatched the message to my friends in London. The translation of the full code was:
The feeling here is unmistakably for endeavour to get settled in a friendly manner. Chamberlain's change of position is considered anything but honourable. I have seen President Kruger, Reitz. Am convinced that if approached by British are open to negotiations basis despatch 19th day of August provided troops at sea recalled, on borders withdrawn they would do the same and would advocate Volksraad's acceptance proposal of the 19th day of August (5 years' retrospective franchise). English general opinion is such a settlement very satisfactory honour on both sides. You must make arrangements influential deputation Salisbury present this view. Meets Bloemfontein proposal. We (I) cannot too strongly urge upon you appeal British nation. Do not relax in your exertions. Delay is dangerous.
This cable received urgent priority through Reitz's directions and after his approval. I understood it was communicated to the President of the Orange Free State. I learned subsequently that my cables were presented to Lord Salisbury on the 6th October. They were acknowledged in a letter to the Clerk of the Society of Friends by Sir Schomberg K. McDonnell who said, "I am to convey you and to the Society his Lordship's thanks for your kindness in affording him an opportunity of perusing these documents...."
Next morning I received a wire from my friends in London in reply to my first cable saying that they had approached Lord Salisbury.
This was at once taken to Grobler and he translated it and transmitted it to the President, afterwards returning it to me with a note of thanks written on the back of the telegram.
Later I received a cable from London: "See Conyngham Greene with proposals. Get President Kruger do same. We are doing our best." That suggestion was, of course, impossible, but I went to Grobler and put the wire before him, and he said he could not understand it as there were no proposals made. He could not say anything officially, and on my asking if he had any objection to my telling Conyngham Greene that I had approached S.A.R Government in a private capacity, he replied that I must use my own judgment, expressing at the same time his opinion that Greene had acted as an honourable gentleman throughout. I then went down to Reitz's office, but he was away, so I went to his house, and again was unsuccessful in finding him. However, I met him on my way back, and he said he could not possibly have any objection to my seeing Conyngham Greene as the matter was entirely for the good of both sides. He suggested that I should recount all that had passed, and spoke very highly of Greene's personality - adding, just as I left him: "Evil communications corrupt good manners," and hoping that this would not prove to be the case regarding Greene and Chamberlain!
Calling at the British Agency that afternoon I saw Vaughan and asked to see Greene. He insisted on knowing the nature of my business, and when I told him he hummed and hawed a good deal about the impossibility of doing anything through third parties. I explained that this was a private concern, and referred to a previous interview with Greene when I had promised to let him know of anything within my knowledge which would bear on the situation. Vaughan asked me to leave my address and promised to let me know if Greene would see me, but thought it very unlikely, adding something that led me to suppose it was too late to change the course already determined.
Later on I received instructions from the Director of the Cold Storage Scheme to proceed to Durban to take charge of the work there, and I wrote to Reitz:
Dear Mr. Reitz,
I am compelled to leave for Durban tonight on the business of the Koelkamers Beperkt, and wish to thank you for the time you have given to me during the past few days.
I will take it as a favour if you will kindly let me know if there is anything else in which you think I may be able to serve the cause of peace. My address will be Durban Club, Durban.
Wishing you Godspeed in all your endeavours to settle this peaceably.
A similar letter was sent to Grobler.
The congested state of railway traffic prevented my leaving for Durban as anticipated, and I had some further interviews with Reitz and Grobler. We came to be on very friendly terms, finding much common ground, and I did all possible to persuade them to look at matters from a Christian standpoint. It was of course a great disappointment that no message came from Greene. I wrote farewell letters to them both before finally leaving on 8th October in a coal train for Portuguese East Africa. en route for Durban, other exits being closed.
During one of these interviews with Grobler he expressed the increasing perplexity of his Government at the non-arrival of Chamberlain's de novo proposals for a final settlement. Meantime there were more alarming reports of increased British forces on the Transvaal and Free State borders and on one occasion Grobler said: "Is this Chamberlain's 'de novo' ? - adding, "if it is we must take care we are not caught with our hands in our pockets!" Meaning that they must take steps for their protection in the event of an attack being made. Subsequent notes and telegrams showed that the Transvaal Government refrained from saying anything to Greene that might have made the situation more precarious. It also transpired that President Steijn of the Orange Free State made, on 7th October, renewed efforts to place matters on a better footing in which were included some of my suggestions.
The tragedy drew to its close by the delivery to Greene of a very long note from Reitz, which commenced with a review of the position established in the London Convention of 1884, and laid emphasis on non-interference in the internal affairs of the South African Republic. It referred to the new Franchise Law and representation in the Volksraad and pointed out that Her Majesty's Government had adopted a more and more threatening tone, had stated that they could no longer agree to the legislation respecting Franchise and representation, and finally by their note of 25th September, 1899, had broken off all friendly correspondence on the subject, intimating that they must reconsider the situation de novo and proceed to formulate their own proposals for a final settlement. Reitz concluded by asking Her Majesty's Government to give the assurance:
(a) That all points of mutual difference shall be regulated by the friendly course of arbitration or by whatever amicable way may be agreed upon by this Government with Her Majesty's Government.
(b) That the troops on the borders of this Republic shall be instantly withdrawn.
(c) That all reinforcements of troops which have arrived in South Africa since the 1st June, 1899, shall be removed from South Africa within a reasonable time, to be agreed upon with this Govemment, and with a mutual assurance and guarantee on the part of this Government that no attack upon or hostilities against any portion of the possessions of the British Government shall be made by the Republic during further negotiations within a period of time to be subsequently agreed upon between the Governments, and this Government will, on compliance therewith, be prepared to withdraw the armed burghers of this Republic from the borders.
(d) That Her Majesty's troops which are now on the high seas shall not be landed in any port of South Africa.
This Government must press for an immediate and affirmative answer to these four questions, and earnestly requests Her Majesty's Government to return such an answer before or upon Wednesday the 11th October, 1899, not later than 5 o'clock p.m. and it desires further to add that in the event of unexpectedly no satisfactory answer being received by it within that interval it will with great regret be compelled to regard the action of Her Majesty's Government as a formal declaration of war, and will not hold itself responsible for the consequences thereof, and that in the event of any movements of troops taking place within the above-mentioned time in the nearer direction of our borders this Government will be compelled to regard that also as a formal declaration of war.
This was the document which became known as the "Boer Ultimatum." These final telegrams will round off the tragedy.
Chamberlain to Milner, 7.30 p.m. 10th October.
"British Agent should say, when he presents the reply to the demands of the South African Republic Government, that, as that Government has said in its message that it would regard as a formal declaration of war a refusal to comply with its demands, he is instructed to ask for his passports."
Chamberlain to Milner, 10.45 p.m. 10th October.
"Her Majesty's Government have received with great regret the peremptory demands of the Government of the South African Republic conveyed in your telegram of 9th October. You will inform the Government of the South African Republic, in reply, that the conditions demanded by the Government of the South African Republic are such as Her Majesty's Government deem it impossible to discuss."
Milner to Chamberlain, 2.45 a.m. 12th October.
"Referring to your telegram of 10th October. Your note has been delivered by British Agent according to your instructions. Greene will leave Pretoria together with British Vice-Consul at 2 p.m. tomorrow. His journey through both Republics has been suitably arranged for.
"Safe conduct has been promised by Government South African Republic to British Consul in Swaziland, if he comes through their territory. I have left it to him to come away or stay as he thinks best. If he comes out, it will be by Lourenco Marques, I expect."
Chamberlain to Milner, 2.55 p.m. 12th October.
"I have to acknowledge the receipt of your telegram of the 11th October, from which it appears that the Orange Free State has definitely joined the South African Republic in its declaration of war. I presume that there is not the slightest foundation in fact for the statement of President Steyn that there has been an active commencement of hostilities against the South African Republic prior to their ultimatum."
Milner to Chamberlain.
"Referring to your telegram of 12th October, the statement you refer to has not the slightest foundation."
Page updated 29th May 2016.