Anthony Guy Graham Enock (1948-).
Date of birth: 1948.
Birthplace: Hampstead, London, England.

Father: Arthur Graham Enock (1898-1985).
Mother: Barbara H Enock (nee Reader) (1920-1993).
Siblings: Josephine G Lubelski (nee Enock) (1922-), Rosalind G De Rivaz (nee Enock) (1923-), Gwendoline Hall (nee Enock) (1925-), Valerie G Jones (nee Enock) (1928-), Arabella Jane Graham Enock (1955-)
Wife: Shirley Enock (nee McDonald).
Date of marriage: 1975.
Place of marriage: Gipping, Suffolk, England.

Children: Richard Anthony Graham Enock (1979-), Camilla Alexandra J Graham Enock (1983-).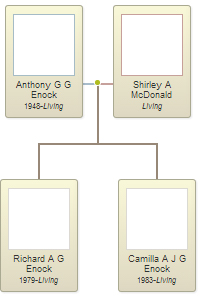 Do you have any more information on Anthony? Please contact me at adam.c.enock@gmail.com.
Page updated 21st October 2014.