Sarah Francis McCracken (nee Baker) (1936-).
Date of birth: 1936.
Birthplace: Hendon, London, England.

Father: Barton Dell Baker (1904-1956).
Mother: Judith Emily Margaret Eileen Hamilton Baker (nee Moore) (1908-?).
Siblings: Michael John Christopher Baker (1933-).

Husband: Roger McCracken (1932-).
Date of marriage: 1957.
Place of marriage: Westminster, London, England.

Children: Rupert James Woodhouse McCracken (1959-), Simon McCracken (1960-), Katherine McCracken-Bell (1963-).
Residences.
1946-1956 - 312 Longthorpe, Peterborough, Northamptonshire, England.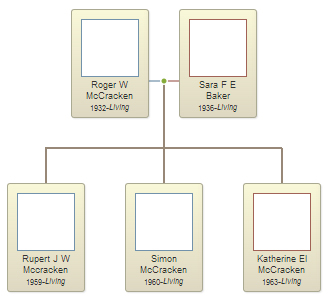 Do you have any more information on Sarah? Please contact me at adam.c.enock@gmail.com.
Page updated 22nd July 2014.