Roger P Gaskell (1952-).
Date of birth: 1952.
Birthplace: Cambridge, Cambridgeshire, England.

Father: John Philip Wellesley Gaskell (1926-2001).
Mother: Margaret Bennett.
Siblings: Luke W Gaskell (1951-), Kate M Gaskell (1955-).
Wife: Anna Gaskell (nee Fowler).
Date of marriage: 1974.
Place of marriage: Hapstead, London, England.
Children: Joseph Laurence Gaksell (1980-), Barnaby Roger Gaskell (1982-), Nathaniel Richard Gaskell (1986-).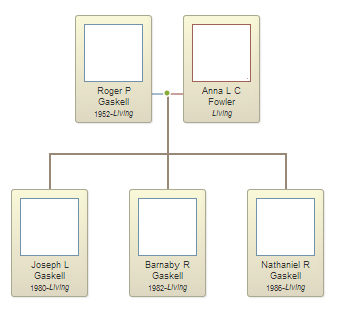 Do you have any more information on Roger? Please contact me at adam.c.enock@gmail.com.
Page updated 22nd July 2014.