Richard John Enock (1954-).
Date of birth: 1954.
Birthplace: Devon, England.

Father: John Arthur Derek Enock (1914-1918).
Mother: Gwendoline Enock (nee Howe) (1921-1998).
Siblings: Francis Roger Enock (1957-).

Wife: Helen Chislett (1959-).
Date of marriage: 1984.
Place of marriage: Northumberland, England

Children: Rosabel Mary Enock Brown (1984-), Florence Elizabeth Enock (1989-).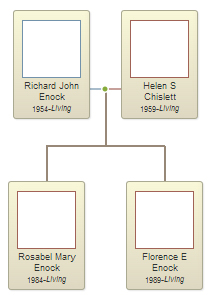 Do you have any more information on Richard? Please contact me at adam.c.enock@gmail.com.
Page updated 16th July 2014.