Patricia Mary Woods (was Lyttelton, Temple Muir) (nee Braithwaite Gaskell) (1929-).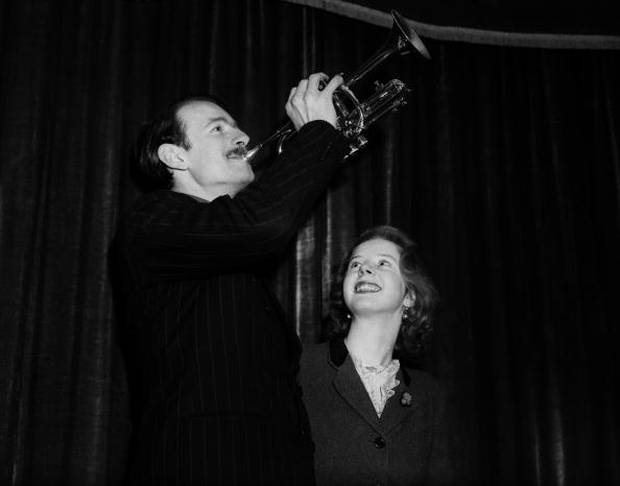 Pat with her first husband, Humphrey Lyttelton in 1948. Image originally posted here.
Date of birth: 1929.
Birthplace: Edmonton, London, England.

Father: John Wellesley Gaskell (1901-1941).
Mother: Olive Elizabeth Braithwaite (was Gaskell) (nee Baker) (1902-1990).
Siblings: John Philip Wellesley Gaskell (1926-2001).
1st marriage.
Husband: Humphrey Richard Adeane Lyttelton (1921-2008). (Jazz musician/broadcaster).
Date of marriage: Thursday 19th August, 1948.
Divorced: 1952.
Place of marriage: Hampstead, London, England.
Children: Henrietta Marie Lyttelton (1949-).
2nd marriage.
Husband: Richard Horsfall Temple Muir. (1923-1989).
Date of marriage: Friday 20th January, 1956.
Place of marriage: Chelsea, London, England.
Children: Sophie Alexander Temple Muir (1962-), Darcy Jane Bloxham (Nee Temple Muir) (1964-).
Muir, Richard Temple, known to friends as Dicky. Businessman. Graduate of King's College, Cambridge. Engaged to Lyndall in 1948. Publisher of magazine Autocourse. Proprietor of London restaurant, La Popotte. Married Patricia, ex-wife of Humphrey Lyttelton. - Antonia White, diaries 1926-1957 - Susan Chitty.
'David started his first company in 1949 with a friend from Cambridge, Dickie Muir, who initially provided the capital. Together, the two embarked on a series of publishing ventures, including London Information, a weekly broadsheet which gave details of events in the capital. In 1952, as managing director of Rowse Muir Publications Ltd, David founded Autocourse magazine, which was followed by Nuclear Power in 1956, Control in 1958, and Machine Age in 1960, thereby giving the company a scope of subject matter as broad as motor racing, machine automation and the geography of British engineering exports. As profits rose, the company expanded to become Rowse Muir International Ltd.' - King's College Annual Report.
'Almost as soon as they got back to Gardnor House the Amises were invited to visit the Edinburgh Festival by their friends Dickie and Patricia Temple-Muir. Dickie Temple-Muir owned a restaurant in Walton Street in London called La Popotte and co-owned the Roxburghe Hotel in Edinburgh'. - The Life of Kingsley Amis.
3rd marriage.
Husband: Christopher Woods.
Date of marriage: 1992.
Place of marriage: Kensington, London, England.
Residences.
1934-? - 63, The Ridgeway, Golders Green, London, England.
View Larger Map
Artist.
It appears that Patricia is an artist. Joe Enock explains in a letter to Patricia, dated 27th April 1981:
'I am glad to hear that you have got as far as having had an exhibition and hope it was a success financially and artistically. I suspect the talent comes through - going backwards - Olive, Cousin Lily (whose real name was Amy E. Baker) and Amy Enock (A.H. Enock's sister) who married Henry Dell, cousin Lily's father.'
Misc.
'Dicky (my old man) and I have just come back from India & Ceylon where we've been for the last 2 months. A wonderful holiday and we were sad to come back. It is marvellous to enjoy the garden and the birds and the SPRING! in England.
I would love to see you and will certainly write if I'm even coming in your direction - quite possible. Both my girls are now 'grown up' - (17 & 18) and driving trips to the 'west' quite possible.
With best wishes
From
Cousin Patricia' - From a letter written by Patricia to Joe Enock dated 1st April 1981.
Do you have any more information on Patricia? Please contact me at adam.c.enock@gmail.com.
Page updated 30th August, 2015.