Margaret Martin (nee Pollard) (1940-).
Date of birth: 1940.
Birthplace: Crawley, England.

Father: Edwin Arthur Leonard Pollard (?-1942).
Mother: Doris Annie Pollard (nee Enock) (1913-2007)
Siblings: None.
Husband: Brian Michael John Martin (1937-1990).
Date of marriage: 1959.
Place of marriage: Uckfield, Sussex, England.

Children: Steven C Martin (1965-).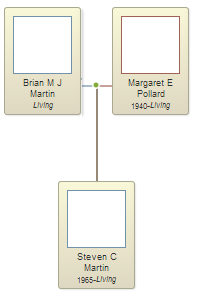 Do you have any more information on Margaret? Please contact me at adam.c.enock@gmail.com.
Updated 15th February 2015.