John Philip "Pip" Wellesley Gaskell) (1926-2001).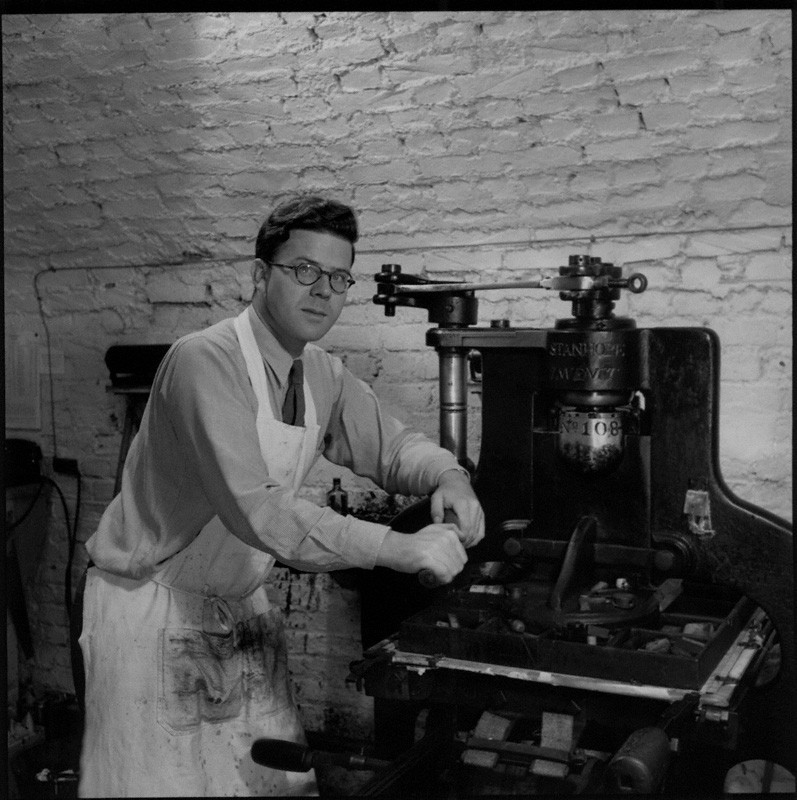 John pictured on Thursday 16th August, 1951.
Date of birth: Wednesday 6th January, 1926.
Birthplace: Edmonton, London, England.
Date of death: Sunday 1st July, 2001. (aged 75 years).
Place of death: Kerrier, Cornwall, England.

Father: John Wellesley Gaskell (1901-1941).

Image taken from 'The Baker Perkins Gallery'.
Mother: Olive Elizabeth Braithwaite (was Gaskell) (nee Baker) (1902-1990).
Siblings: Patricia Temple Mary Muir (was Lyttelton) (nee Braithwaite Gaskell) (1929-).
1st marriage:
Wife: Margaret Bennett.
Date of marriage: 1948.
Divorced: ?
Place of marriage: Hampstead, London, England.
Children: Luke W Gaskell (1951-), Roger P Gaskell (1952-), Kate M Gaskell (1955-).
2nd marriage:
Wife: Annette Beighton.
Date of marriage: 1984.
Place of marriage: Cambridge, Cambridgeshire, England.
Children: A daughter?
Residences.
1934-? - 63, The Ridgeway, Golders Green, London, England.
View Larger Map
Education.
c1930-c1939 - Dragon School, Bardwell Rd, Oxford, England.
View Larger Map
c1939-c1943 - Oundle School, Church Street, Oundle, Peterborough, England.
View Larger Map
1948-? - University of Cambridge, King's College, King's Parade, Cambridge, Cambridgeshire, England.
Read English. Here Pip came under the spell of Dadie Rylands. With Tim Munby, recently returned from a German prisoner-of-war camp and now in charge of the college library, Pip's interests rapidly developed as he began to learn about the history of books.
Encouraged by his mentors, he pieced together a bibliography of the works of the 18th-century poet William Mason. This prentice work already showed some of the concerns for the material and manufacture of books that were to be the hallmarks of his mature writing.
View Larger Map
Occupation.
1952-1954 - Editor of the Book Collector, the quarterly hournal founded on the generosity of Ian Fleming.
1954 - Set up the Water Lane Press.
Equipped with 18th-century Caslon type and one of the first iron presses, made in about 1800 and lent by the Cambridge University Press, Gaskell was able to simulate how books had been printed in the hand-press era. Among his pupils were Don McKenzie, professor of English at Victoria University, Wellington, New Zealand, then Oxford, and James Mosley, librarian of the St Bride printing library.
1960-1962 - Oundle School, Church Street, Oundle, Peterborough, England.
English Teacher.
View Larger Map
1962-1966 - University of Glasgow, University Avenue, Glasgow, Scotland.
Master of a hall of residence and keeper of the early books in the library.
1967-1986 - University of Cambridge, Trinity College, Cambridge, Cambridgshire, England.
Librarian and fellow of Trinity College
Wren's building was in need of repair, and with the help of others who recognised the urgency of the situation he oversaw the complete restoration of the library from 1969 to 1971 under the skilled architectural guidance of Peter Locke of Donald Insall and Associates.
Pip also did some teaching at the California Institute of Technology, introducing (mostly) mathematicians to the subjects dear to his heart.
He retired as librarian in 1986, but remained a fellow till his death.
View Larger Map
Australia.
Lured by the promise of graduate students, Pip migrated to Australia, with family, press and all. The promise proved false, and, two months later, he was back in England, trying to reconstruct life.
Army.
1943-1948 - Served with the Signals, laying miles of wires across Holland and northern Germany, ending up near Kiel. After the war, he moved on to army broadcasting, and was posted to Ceylon, a far cry from the human misery and moral muddles of Europe only a few months previously. But in these postings lay the seeds of how he was to develop.
Interests.
Music
In 1947, Pip became a founding member of Humphrey Lyttelton's (his sister Pat's first husband) band, playing clarinet. Although his time with 'Humph' was short, Pip developed a passion for modern jazz and began to learn the alto saxophone.
Photography
Pip was an adept photographer. He was particularly interested in black-and-white portraiture, and eventually moved in to colour aerial photography, after he learned to fly.
Flying
Pip bought his own plane (for £400), and flew it from Marshall's airfield, gradually braving even trips abroad, to Schipol and elsewhere, and the challenge of piloting a tiny aircraft next to 747s.

Map-reading, flying on instruments, the way to take advantage of thermals: all appealed to his sense of the practical, rather as radio had during the war.
Film
For the last chapter of his case-study account From Writer To Reader (1978), he used cinefilm to catch the fleeting dramatic text of Tom Stoppard, writer in residence at Trinity.Fascinated by film, a medium as evanescent as a play but capable of record and repetition, he was drawn to teach at Caltech, the California Institute of Technology at Pasadena, near the heart of the industry. Ulysses, a text hard to pin down in a different way, was the subject of one of his last books, Ulysses: A Review Of Three Texts (1989), written with Clive Hart; latterly, mature students at Exeter University satisfied his delight in teaching.
Printing Techniques.
Pip realised early that the techniques of printing practised in the 17th and 18th centuries were the key to understanding how a text came into existence.
In 1953, Pip persuaded the Cambridge University Press to lend him one of the original iron hand-presses built to the design of Earl Stanhope at the beginning of the 19th century. Installed in a cellar of the Gibbs Building at King's, with type begged from printers, John founded the Water Lane Press (so called after the old local street name). With a group of like-minded enthusiasts, he set out to learn as much as he could about the conditions of the pre-mechanised printing house. It was a subject near to his post-graduate research, but he took it further, experimenting to see how fast it was possible to print and so testing centuries-old agreements between masters and men.
Retirement.
Ostensibly living in retirement in the West Country, and seeking a new life, the calls to write and to teach were not to be denied, this time for mature students attached to Exeter University. In California, he had begun to discover a way to spiritual peace, and as cancer took hold he drew increasingly on this, mixing with it the old practical approach that had marked so much of his enthusiasm for life.
Books.
John Baskerville - 18th-century Birmingham printer (1959, revised 1973).

Glasgow Foulis Press (1964, revised 1986).

Morvern Transformed (1968).

New Introduction To Bibliography (1972, latest revision 1985) was revolutionary in treating the object of bibliography as not just the text but all the processes that had gone into making it. It has become a classic, used all over the world.
Do you have any more information on John? Please contact me at adam.c.enock@gmail.com.
Page updated 22nd July 2014.