Doreen Felice Caseleyr (nee Nicholson) (1910-1977).
Doreen was born to Thomas and Ethel Nicholson (nee Fairweather) in Liscard, Cheshire, England in 1910.
The 1911 census shows that Doreen and family were living at 34 Caithness Drive in Liscard, Cheshire.
On the 12th September 1941, Doreen married Camille Auguste Marie Caseleyr (Teacher, born Antwerp, Belgium 1909-1985) in Evesham, Worcestershire. The couple had 2 children, Alice and Veronique. Notes from Science Fiction and Fantasy Literature, volume 2 by R. Reginald. This book also states that Doreen was a 'Bursar'.
Camille was better known by his writing name, Jack Danvers. Doreen and Camille emigrated to Australia. Here Camille wrote his novel 'The End Of It All', a tale which depicts a nuclear World War Three and climaxes in doomed Australian attempts to cope with epidemics unleashed by the opposing forces. In the end extinction is total.
An Australian electoral roll shows that the family were living in Darwin.
On the 23rd December 1977, Doreen passed away in Yeppoon, Australia aged 67 years.
She is buried in along with her husband in Yeppoon Cemetery, section 5, row 8, grave 325.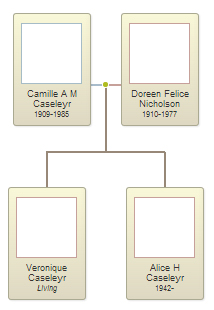 Do you have any more information on Doreen? Please contact me at adam.c.enock@gmail.com.