Denise A Sayers (nee Lochhead) (1960-).
Date of birth: 1960.
Birthplace: ?

Father: Douglas R Lochhead.
Mother: Hazel Mary Lochhead (nee Enock) (1932-1998)
Siblings: Jacqueline M Davies (nee Lochhead) (1958-), Ian F G Lochhead (1963-), Duncan James Lochhead (1968-).

Husband: Leslie Sayers.
Date of marriage: 1992.
Place of marriage: ?

Children: Kate Elizabeth Sayers (1994-), Jack Alexander Sayers (1996-), Bethany Hazel Sayers (1998-).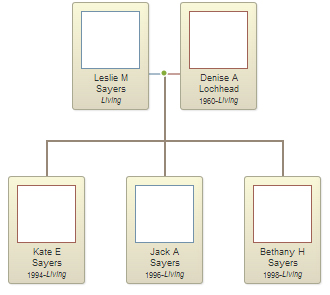 Do you have any more information on Denise? Please contact me at adam.c.enock@gmail.com.
Page updated 17th July 2014.